Update: From 26 June people with significant control (PSC) information will not be updated on the confirmation statement. Instead, you'll need to tell us on new forms whenever there's a change.
Following recent media focus on corporate transparency, I thought it would be timely to provide an update on the new 'people with significant control' (PSC) register. and to highlight what information you can expect to see on the Companies House register over the next 12 months.
On 6 April 2016, new law came into effect that requires all companies to keep a register of the people who can influence or control a company, that is, the PSC of the company. PSC are popularly referred to in the press as the "beneficial owners" of a company.
As companies are already required to keep certain information in their company registers; the new PSC register includes details such as the names, dates of birth and nationalities of the PSC. The company must confirm with the PSC that the information is correct.
The next step is for companies to file their PSC information with us. They'll start to do this from 30 June 2016. In most cases this will form part of their first confirmation statement, which replaces the annual return from this date.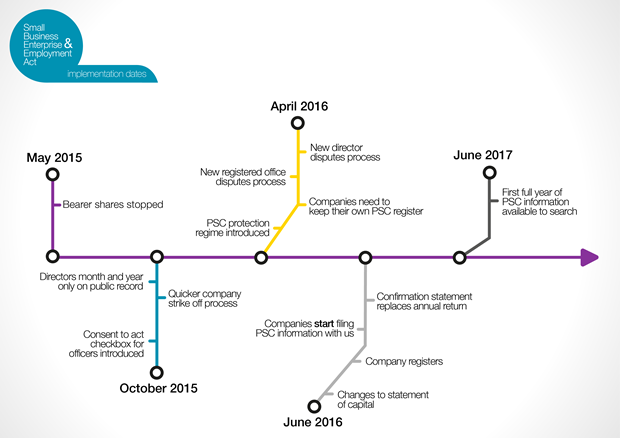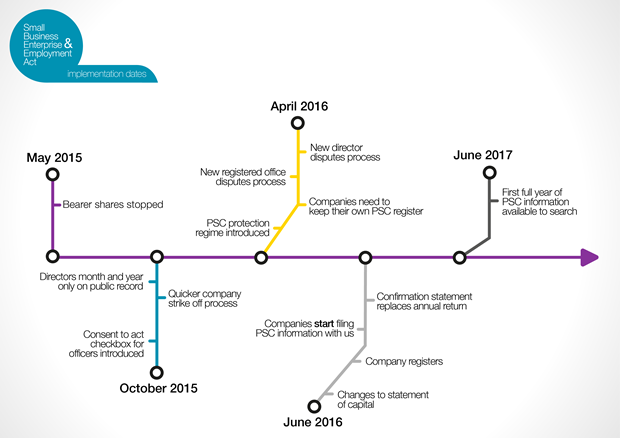 The PSC register will be available to search free of charge from 30 June 2016. It will take up to 12 months for the PSC register to be complete, because confirmation statements are filed throughout the year, with each company's filing date based on the anniversary of their incorporation.
For example, if a company files an annual return on 10 June 2016, they won't be required to file a confirmation statement (including their PSC information), until 10 June 2017. That said, a company could choose to file their confirmation statement early and if they do so, their PSC information would become publicly available at that point.
If you want to check when a company is due to file their confirmation statement, you can do so on the Companies House Service, which is free to search. This will also be the place to view a company's PSC information once it's been filed.
New companies registering after 30 June 2016 will have to provide their PSC information as part of the incorporation process, meaning their data will be accessible and searchable almost straight away. It's worth remembering though, as with directors, home addresses and full dates of birth will not be publicly displayed.
Over the next 12 months, as new companies incorporate and existing companies file their confirmation statements, we'll start to build a more complete picture, through free accessible data, of the PSC, or beneficial owners, behind UK companies.
In terms of greater transparency, this is a big step forward to help to further strengthen confidence in business and deliver real benefits to the UK economy as a whole.