Encompass is the creator of Know Your Customer automation for the banking, finance, legal and accountancy sectors. Find out how they use our data for their platforms.
According to Encompass, more than 200 firms globally rely on their products to understand complex commercial situations, to manage risk and compliance, and to make informed business decisions faster. They say their platform automatically aggregates and analyses information from government and commercial vendors related to corporations, individuals and property.
We recently asked them a few questions about how they use our application programming interface (API) for their data visualisation products.
How did you find out about our API?
Encompass integrated with the Companies House Service (CHS) API late 2014 in preparation for a UK launch in April 2015. Our product was already available in Australia at that time and integrated to the Australian equivalent, Australian Securities and Investments Commission (ASIC). So, when we came to the UK – and from speaking with customers here – we knew that access to real-time information from the Companies House register would be critical. It was the first source of information we sought access to.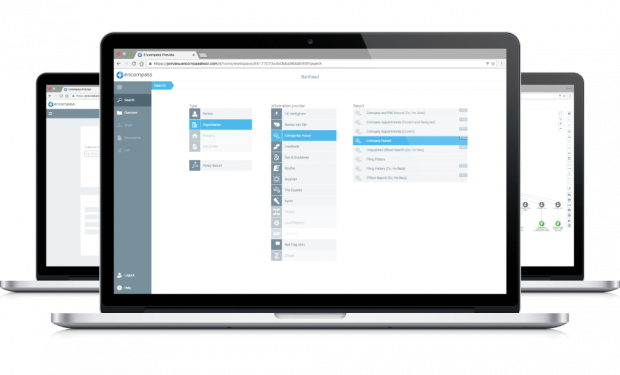 How was it used?
Using the CHS API, Encompass has been able to visualise company information available from the official register. This includes company information, company filing history documents, officer and disqualified officer details and people with significant control (PSC) information. This can then be overlaid with data from other sources of person, company and property information to provide the full picture of the parties people are dealing with.
Why did you create these data visualisation products?
Our founders' story underpins the origin of Encompass. After they were defrauded in a property development deal, Roger Carson and Wayne Johnson reflected on the information they and their advisors had gathered for a court case that ensued. They also reflected on the delays caused by needing to analyse information about the people, companies and properties involved. Their frustration that there wasn't an easier way to find this information made them think search, management and review of commercial data needed to be improved to help professionals make better commercial decisions. So, in Australia in 2012, Encompass and visual analytics on aggregated corporate property and person data began. They found that the use of automated searches across multiple information providers, reduces search time and human error.
How can people use what you've produced?
Encompass products are available on a subscription model and accessed via an ordinary web browser. Workspaces can be shared with peers and associates in order to collaborate on a case or client matter. For customers who are already subscribed to other data providers like Experian or the Land Registry, they can set up their existing account within Encompass products in order to view and use those data sources alongside Companies House data.
To keep in touch, sign up to email updates from this blog, or follow us on Twitter.