For the next 2 weeks, you can guarantee glorious sunshine because, it's the Wimbledon championship at the All England Lawn Tennis and Croquet Club.
Since 1877, the world's premier tennis championship has taken place during the summer months, taking advantage of the British weather. Okay, this usually means it's going to rain and Sir Cliff will be serenading the audience until play can recommence.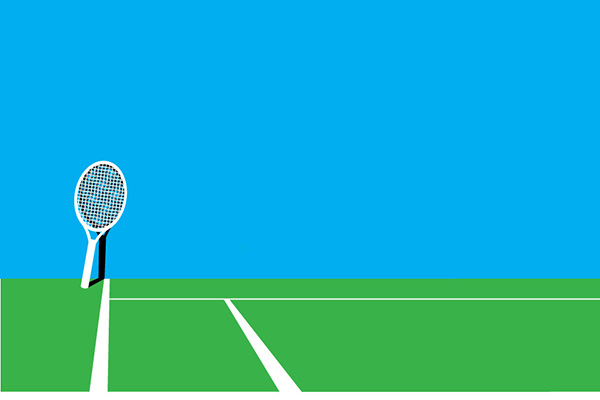 So, I thought I'd look at a couple of companies who've become linked with the Wimbledon championship.
Firstly, Slazenger.
Slazenger has been supplying the tennis balls at Wimbledon since 1902. Originally tennis balls were made from a variety of materials including leather, human hair, wool and sheep's stomach. But, with the invention of vulcanised rubber in the 1870s, this became the material of choice and over 50,000 Slazenger tennis balls will be used during the 2 weeks.
Slazenger was officially founded in 1881 by the Slazenger brothers, Ralph and Albert and were incorporated on 23 May 1911. Specialising in racket sports including tennis, golf, cricket and hockey, it's one of the oldest surviving sporting brand names.
Each ball is tested rigorously; a ball must bounce between 135 and 147 cm after being dropped onto concrete from a height of 100 inches. It must measure between 6.54 and 6.86 cm in diameter and weigh between 56 and 59.4 grams.
What happens to all those used tennis balls? Well, you can buy them. The next day they're sold at a kiosk next to court 14, with the proceeds being donated to the School of Tennis Programme, delivered by The Tennis Foundation.
Slazenger will continue to be the official tennis ball supplier for Wimbledon 2018, and will provide canvas, umpire chairs, nets and tennis balls for The Championships and Wimbledon Tennis Club throughout the year.
The second company which is paired with the tournament, and can really put its success down to the Wimbledon championship, is Robinsons Barley Water.
Now owned by Britvic, the company can be traced back to 1823 when Matthias Robinson invented Robinsons Patent Barley and Barley Groats, originally a powdered product. Step in, Mr Smedley Hodgson, who combined Robinson's patent barley crystals with real lemon juice and sugar, creating a refreshing and hydrating drink.
In 1935, he sneaked the drink into the players dressing rooms, and so the Wimbledon and Robinsons association began.
Acquired by Britvic in 1995, the brand has extended its tie-up with Wimbledon to 2020, making it the second-longest sports partnership in history. The first, of course, that's Slazenger.
Inspecting company information is easy and free using our online service. Currently in beta form, the service is continually being improved and updated.
If you want to keep up-to-date with the latest information from Companies House, sign up to receive regular email alerts. Simply enter your email address and you can then choose your subscription topics from the latest news to legislative updates, and you can opt out at any time.
So, who'll be lifting the Wimbledon trophy this year? Hopefully, it'll be that great British sportsman, Andy Murray. Unless he loses. Then he's Scottish.
To keep in touch, sign up to email updates from this blog, or follow us on Twitter.