With the days drawing in and the weather getting cooler, it can only mean one thing. The start of the new school year.
For many people, school days were the best days of their lives. But for others, they were a mixture of good and bad experiences. Making friends, dodging PE, swotting for exams. For most, school days hold fond memories, where there are no real-world responsibilities – except the life and death concern of handing in your homework on time.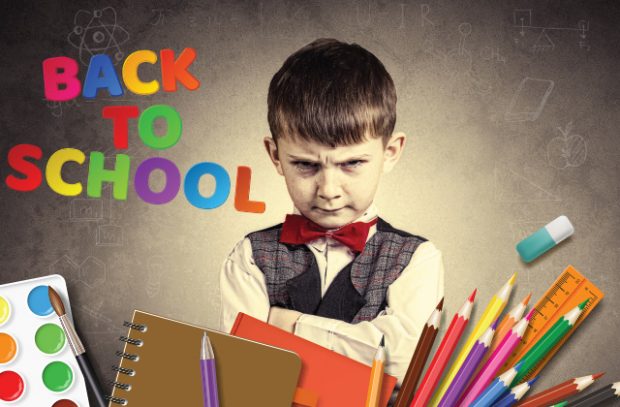 Although the return to school is daunting for everyone (including the teachers), the scariest must be the step up from primary to secondary school. Moving from being one of the oldest with dozens of friends, to a new location where you're now the youngest and most vulnerable. There may be a few familiar faces, but most of your friends are now scattered to different classes or schools.
Having an elder brother or sister in the same school can have mixed blessings. Yes, they may show you around and stick up for you. But usually, they'll ignore you. Sibling rivalry can lead to lots of animosity.
Another drawback to having an elder sibling who's only slightly older is, the hand me downs. While all the other kids will be kitted out in brand new shirts, blazers and Tuff Wayfinders* (remember them?), you'll be in a uniform two or three sizes too big. But, you'll grow into it.
Then, there's the choice of bag. Back-pack, satchel, briefcase or safe bet, a sports holdall. I was pleased to see that the Gola Classic holdall has made a bit of a comeback.
Today though, things have changed for the better. Long gone are the chalk boards, lukewarm milk and a visit from the nit nurse. Now, it's computers, smart screens and the internet. One thing that hasn't changed, is that darn homework.
If there's one thing that school taught me, it's punctuality and timeliness.
Making sure that I get somewhere on time or return something on time was drummed into me at an early age. Cemented with detention or lines, I made sure that homework was completed and handed in on time.
Running a company also means that you must do your homework and get things in on time. Failure to do so will not mean detention, but could result in a fine and ultimately, your company being struck off.
My homework was usually completed sat in front of the TV. Remember when the TV used to be a huge wooden box with its own legs, and a remote control was the closest person to the set? Oh, and you never owned the TV – it was always rented from Rediffusion. Homework had to be hand-written into a lined book, showing your workings where necessary. There was none of this on-line submission that some schools allow these days.
Luckily for you, if you're running a company, you can now submit many of your documents online. Our online service allows you to file your company's confirmation statement, annual accounts and other changes such as your directors or people with significant control (PSC).
There we have a little bit of nostalgia to remind you of how things used to be. But don't worry, it'll soon be conker season.
Those were the days.
* Shoes with a compass in the heel and animal track patterns on the soles. (Trust me, they were great at the time).
To keep in touch, sign up to email updates from this blog, or follow us on Twitter.