Businesses and shops on high streets up and down the country have adapted since the outbreak of coronavirus (COVID-19), and many are able to welcome customers back to business-almost-as-usual.
In 2019 we visited the Eco Larder, a community interest company in Edinburgh, to find out what inspired Stephanie and Matthew to set up their own zero waste supermarket. We recently spoke to Stephanie again to find out how their business has changed during the coronavirus outbreak.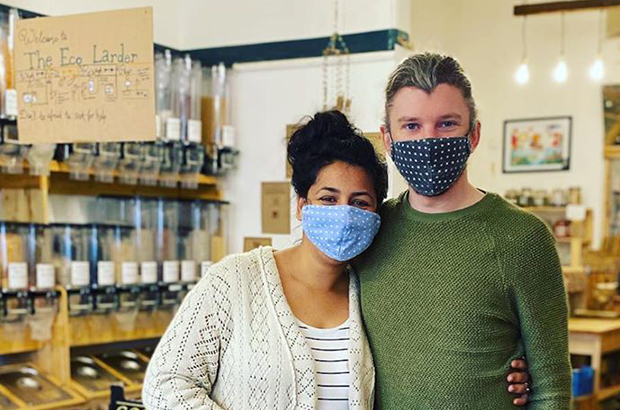 The Eco Larder stayed open and safely welcomed customers throughout the coronavirus outbreak, but they changed their opening hours to respond to the developing needs of the business.
Instead of opening at 10am to 6pm, we opened 11am to 4pm because there's loads more cleaning, loads more deliveries to pack and just a lot more work in general. So having the shortened hours really helped us.
During the outbreak the Eco Larder started offering deliveries, which was a challenge for its social mission of providing groceries with zero waste packaging. Now the shop runs a closed loop system which means that customers are able to order goods from the store and then return the containers when their next delivery arrives.
Keeping emissions to a minimum for deliveries is also important to Stephanie and Matt so they've been delivering by cargo bike. Sustrans lent the shop 2 cargo bikes and lots of people have volunteered time to deliver groceries on their behalf.
They ask for a donation for deliveries, and those donations are used towards stocking a local food bank.
We say a £5 donation, but we've seen £20 donations - it's been amazing. One lady didn't even order anything, but she donated £100 for the food bank.

People have just been really kind, offering their time and help in every way possible.
Government support
The Eco Larder has been closely following government safety advice throughout the outbreak. They've installed a perspex screen at the till, hand sanitiser at the entrance and have a one-way route marked out around the shop.
Stephanie and Matthew received a lot of information about government support from their local social enterprise group. That's where they found out about the Scottish Government's Wellbeing Fund, which was created to help third sector organisations cope with the effects of coronavirus.
They successfully applied for a grant to buy their own cargo bike so that they can continue to deliver zero waste groceries across Edinburgh.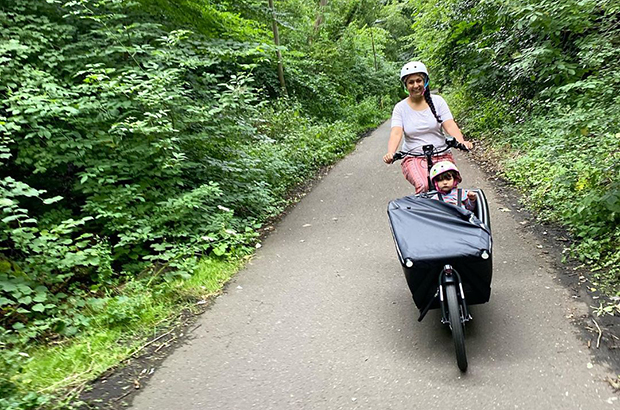 Planning for the future
Despite the difficulties that coronavirus has brought over the last few months, the Eco Larder is thriving and preparing to open a second store in the city.
Before the virus, I feel like there was so much momentum with the plastic free movement. Then the virus hit and, although we've seen more demand in store, overall as a society I think it's gone backwards a bit.

With a second store there will be more people, more employees and just more force behind being able to campaign and shout about it and to reach and educate more people with our social mission.