I read an interesting statistic recently. There are more Lego people than real ones. This intriguing fact is taken from a book entitled 'How to save our planet: The Facts', a thought-provoking look at the state of the planet by Professor Mark Maslin.
I like to think I play my part in saving the planet. I put out my recycling every week and my bags for life are living up to their name. I cannot remember the last time I bought a carrier bag at the supermarket.
Like most people, concerns about the environment are becoming more important in what I purchase and who I buy it from. I find myself looking for products with less packaging or in recyclable containers and I do not mind paying a little more for a product or service that has sustainable credentials.
At Companies House we're also doing our bit. We've had a biomass boiler for many years and even before the current pandemic we were trialling working from home and bicycle purchasing schemes to save on emissions. We've even stopped sending out paper reminders, saving around £1.2 million each year which we can reinvest into our products and services, making us more efficient and improving customer experience.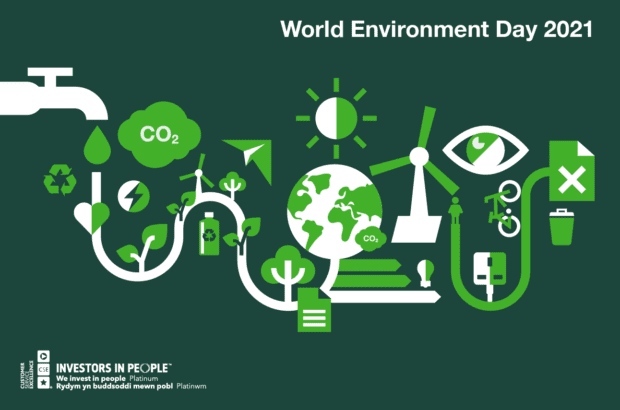 As well as established companies changing practices to be more environmentally friendly, many new companies are now putting environmental impact at the top of their business priorities. Our recent case study on The Eco Larder highlights the importance and popularity of companies with an environmental commitment and passion.
Research suggests that customers are more likely to buy from one company over another if the business demonstrates environmentally friendly practices. And enhancing a brand with green measures can help a company gain a competitive advantage.
Becoming greener is not only attractive to potential customers, it can also reduce the overall running costs of a company.
There are plenty of small things you can do that will have almost instant rewards. Switching off lights, changing to low energy bulbs and reducing paper usage will have a positive environmental impact straight away.
Did you know that leaving a laptop plugged into the mains when it's fully charged will waste energy and reduce its performance over time? You're probably now looking at your battery indicator and unplugging from the mains. Again, this is a simple habit to change and will reduce the energy use of your business or home, if that's now where you are working from.
From an environmental aspect, cutting carbon emissions is the main reason to take on an eco-friendly stance. Every way in which you change your business will be reflected in the carbon emissions released. It's the CO2 that has a devastating impact on the environment and unfortunately both homes and businesses are major culprits when it comes to this.
If companies can show they're doing everything in their power to support the green economic recovery, consumers are likely to reward them. But there's legislation around 'green marketing', and it's worth reading the Competition and Markets Authority's views on the types of misleading environmental claims made about products that could break the law.
UN Climate Change Conference of the Parties
For the first time, the UK will host the 26th UN Climate Change Conference of the Parties (COP26) in Glasgow on 1 November to 12 November 2021.
For nearly 3 decades, the UN has been bringing together almost every country on earth for global climate summits – called COPs – which stands for 'Conference of the Parties'. In that time climate change has gone from being a fringe issue to a global priority.
This year will be the 26th annual summit – giving it the name COP26. With the UK as President, COP26 takes place in Glasgow.
In the run up to COP26, the UK is working with every nation to reach agreement on how to tackle climate change. More than 190 world leaders will arrive in Scotland. Joining them will be tens of thousands of negotiators, government representatives, businesses and citizens for 12 days of talks.
Race to Zero
The Race to Zero is a global campaign to rally leadership and support from businesses, cities, regions and investors for a healthy, resilient, zero carbon recovery that prevents future threats, creates decent jobs, and unlocks inclusive, sustainable growth.
Together for our planet
This year, the UK government has partnered with business owners and respected climate groups to help businesses to cut carbon emissions and protect the planet.
The UK Business Climate Hub is a campaign that asks UK small businesses of up to 250 employees to join the fight against climate change by committing to reducing their greenhouse gas emissions.
When you commit, you'll get the tools to help you understand your emissions, how to tackle them, and how to share what you're doing with your customers and your community.
Become one of thousands of small business climate leaders across the UK this year and commit today at the UK Business Climate Hub.