On Easter Sunday millions of us Brits will be tucking into delicious chocolate eggs, but what company started this trend in the UK? We've done some digging online to find out, checked out their entry on our register and discovered some eggcellent facts!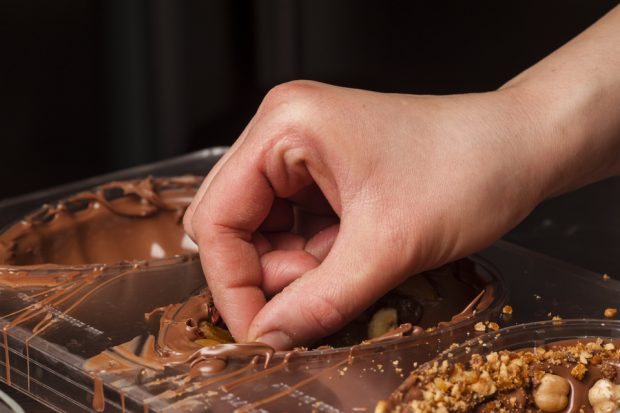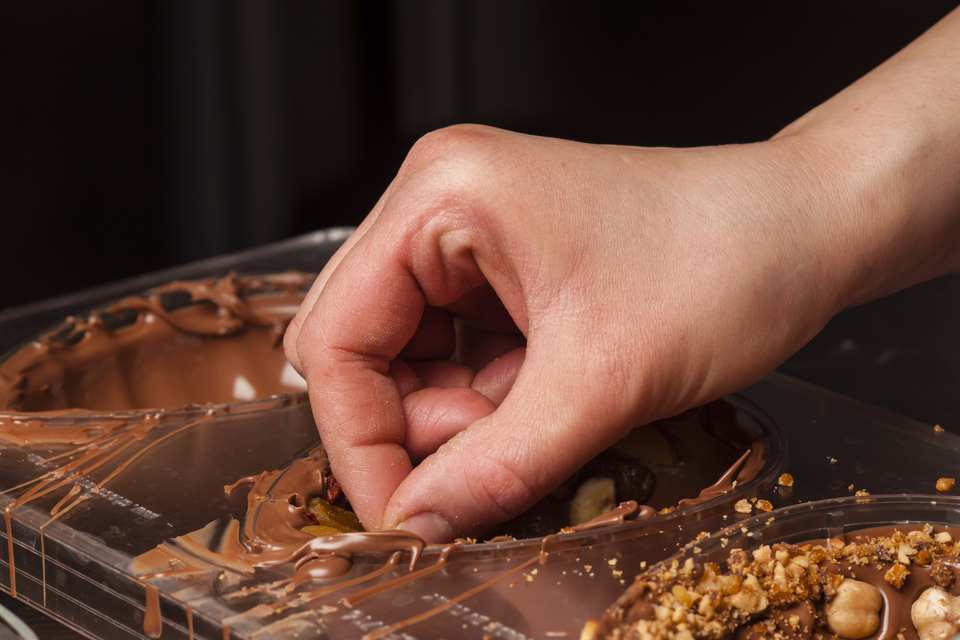 So where did it all begin?
Chocolate eggs are said to have originated in France and Germany in the early 19th century but here in the UK it was J. S. Fry & Sons Limited who produced the first chocolate egg in 1873.
The Bristol based chocolate business was founded by Joseph Fry, a Quaker, who started making chocolate in 1759. In 1795 it was his son, Joseph Storrs Fry, who patented a method of grinding cocoa beans using a steam engine and as a result was able to start producing chocolate using factory techniques. Fry's factory quickly became the largest commercial producer of chocolate in the UK and over the following decades produced over 200 chocolate delights, including:
Fry's Chocolate Cream
Fry's Turkish Delight
Fry's Easter egg
Fry's chocolate company first appears on our records as J. S. Fry & Sons (Africa) Limited, registered 1 July 1912, by directors Roderick James Fry, Conrad Penrose Fry and Claude Basil Fry. In 1935 the company officially changed its name to J. S Fry & Sons Limited, at a cost of 5 shillings. It then remained on the UK register, predominantly as a dormant company, until 2011 when it was voluntarily dissolved.
Its dormant status can be explained by the fact that in 1919, J. S. Fry & Sons merged with the increasingly popular chocolate company, Cadbury.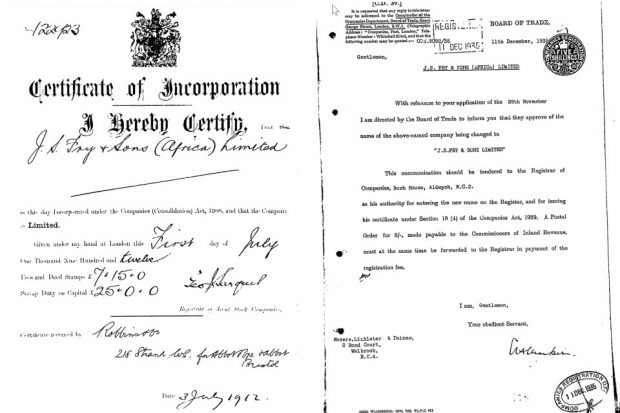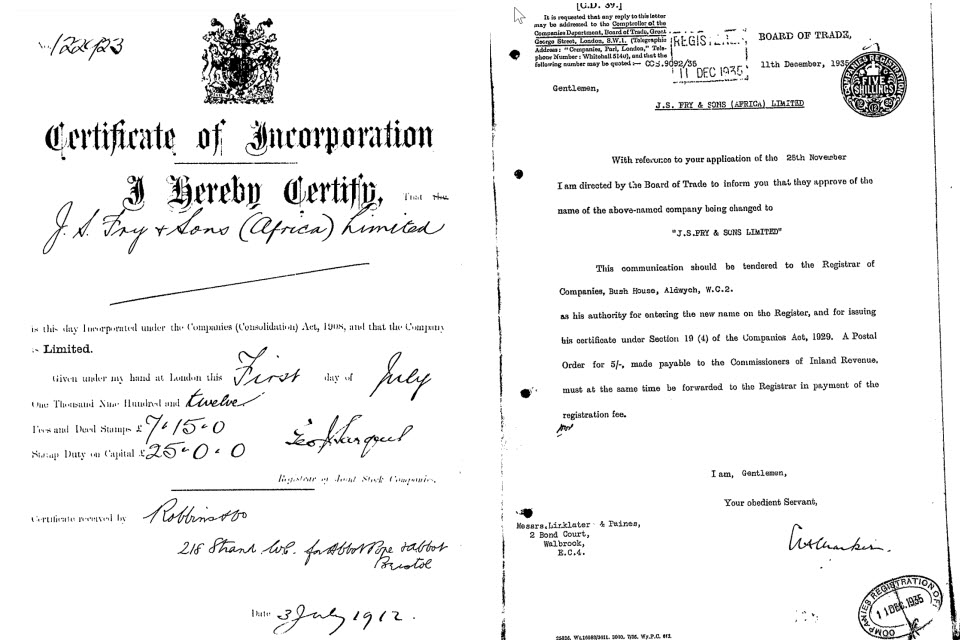 Cadbury Brothers Limited first registered with us on 13 June 1899, with 5 members of the Cadbury family listed as the governing directors. In a similar way to Fry's, several decades later on the 4 January 1970, the company passed a special resolution to change its name to Cadbury Schweppes Overseas Limited. This remains its name today, still being an active company on the UK register – alongside multiple limited companies with the Cadbury name. You can view their long filing history, including the original 1899 incorporation documents, on Companies House Service.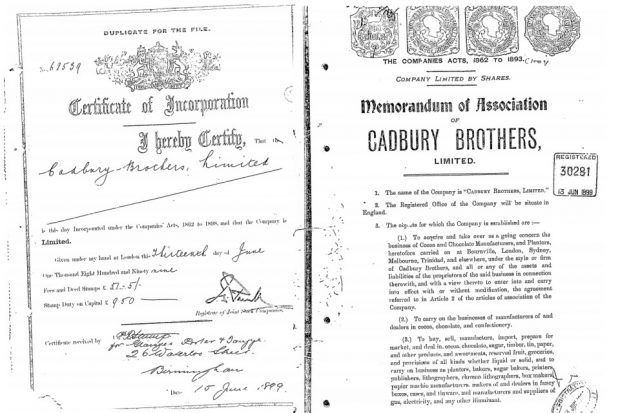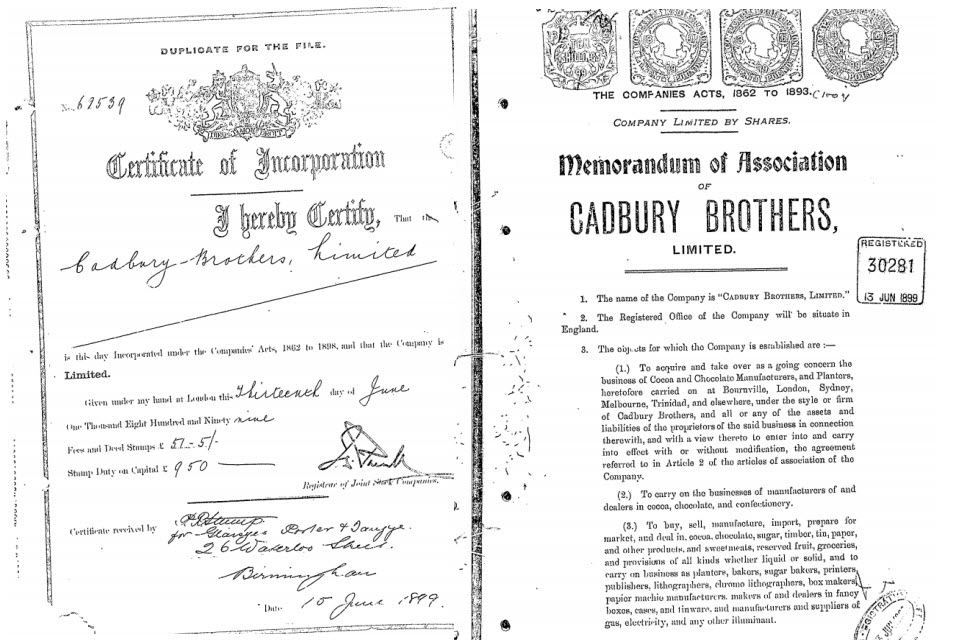 What happened to Fry's Easter egg?
In terms of the Easter egg development, Cadbury produced their first egg in 1875, 2 years after Fry's, but progress after this was very slow until a method was found of making the liquid chocolate into moulds. Over the next 100 years Cadbury's went on to produce a range of chocolate eggs – decorated, foiled and cardboard; while Fry's tried to add value by offering an unusual range of eggs that were attached to different gift items including watches, necklaces and even cutlery. Sadly, these didn't quite take off and Cadbury's Easter eggs dominated the market for the foreseeable future, as they do today.
When UK companies produced their first Easter eggs:
| | |
| --- | --- |
| Fry's Easter egg | 1873 |
| Cadbury's Easter egg | 1875 |
| Rowntree Easter egg | 1904 |
| Mars Easter egg | 1987 |
Image credit: AlessandroZocc/Shutterstock.