After a trip to a local brewery, Rhys Watkins and Adam Edinborough decided to give up their regular 9 to 5 jobs to start their own. We spoke with co-founder of Crafty Devil Brewing, Rhys, to find out how he and his business partner went from commercially brewing beer in a shed to owning a bottle shop front bar in Cardiff.
What inspired you to start your company?
Really, we started back in April 2014 after me and Adam, my business partner, went on a brewery tour at Otley Brewery in Pontypridd. We thought we could go off and do this, this is actually a great way of living.
We bought an oversized home brew kit and set it up in my shed and started brewing from there. We ran the business on that site for 9 months until we moved to our current site. We started brewing 1–2 times a week, now we're brewing up to 5–6 times a week.
Where did you both work before starting the brewery?
Adam was a pipe fitter by trade, working in construction. I was in local government, catering manager for Cardiff Council. I've done a lot of change management, a stint in the MOD [Ministry of Defence], as a change manager and project business development.
Were you aware of the brewing process beforehand?
Not massively. We've had always been fans of beer and been drinking real ale for a long, long time. We were just fans of the product. We began brewing with the intention of making it a business venture. We didn't start as home brewers, we started it to brew commercially. We taught ourselves from start to finish.
How did you teach yourselves?
Research online, YouTube. A lot of the American home brewers post a lot of stuff on YouTube. So anyone who's brewing out there it's a great way to learn how to home brew. A lot of research basically, into all the elements of brewing.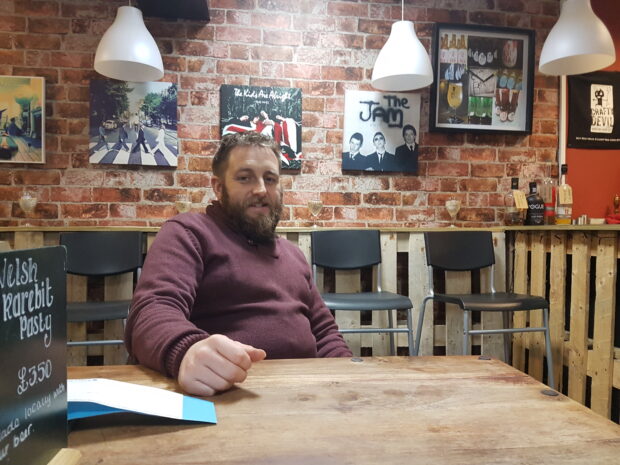 What's the idea behind the name?
We wanted something along the lines of craft beer because we don't make cask beers – we make proper American style craft beer. And we're really into our rock music, so Crafty Devil was a brain child of texting back and forth really.
When and why did you register to become a limited company?
Advice from our accountant. When we went to gain business advice from Welsh Government, the first advice they gave us was to go limited. So we limited the company in September 2014, basically on the advice from both our accountants and Business Wales.
Why did you open a bar with a shop front?
We felt the only way we can make money in this business is by selling direct to the customer. Especially for our style of beer as it's very expensive to make. We wanted to give ourselves a high street presence, give people a great place to drink, come and buy our beer, and take it away. Really, it's an outlet for us to get into that community.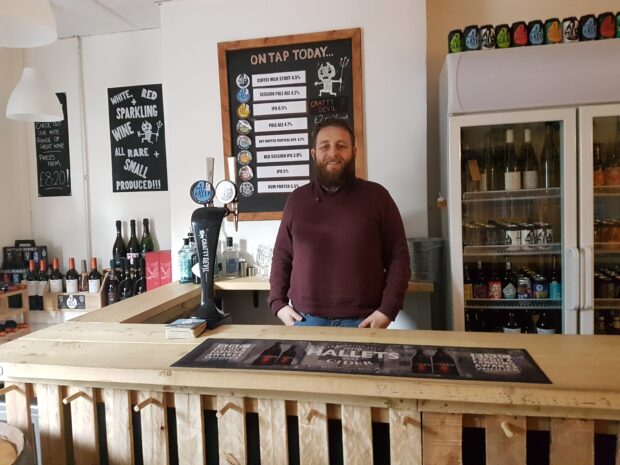 There are a lot of sacrifices you have to make working for yourself but the satisfaction you get is amazing.
Is the craft beer community of particular importance to you?
We really believe in the community, the craft beer movement grew through community brewers. In the States you won't find craft breweries exporting much out of their 30 mile radius, because people are proud of their local breweries. We wanna become basically Cardiff's craft brewery. The go-to brewery for Cardiff, that's the dream.
What would you say are the biggest challenges you've faced so far?
Rapid growth. Rapid growth brings twofold: cash flow problems, because you're needing to buy more ingredients to brew more. Then you have to sell it. So you've got a problem there from both ends: you might be selling more but that will take a long time for it to come into fruition, into profit.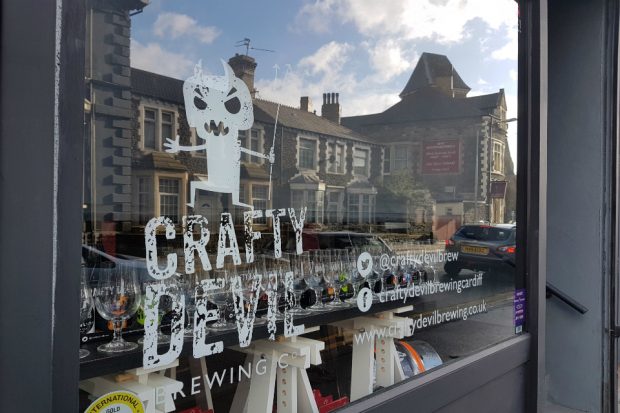 What's the best piece of advice you could offer other startups?
Go and do it, it's an amazing thing to do. And control your costs. Keep an idea of where you want to go. Keep true to your brand, true to what you want to do. It's just about following that dream and making sacrifices. There are a lot of sacrifices you have to make working for yourself but the satisfaction you get is amazing.
How can people try your beer?
The best place to come is come to the crafty devil cellar on Llandaff road, we're open every day. If you're not in Cardiff, we distribute to all the big cities: Bristol, London, Birmingham, Manchester, any craft beer bar there you might be able to pick up our beer.
And if you are in the rest of the UK, there's a craft beer club called Honest Brew and they sell our beer online. Another company that sell our beer online, is a Welsh company called This Is Beer.