We've been searching on Companies House Service (CHS) to discover 10 Glastonbury Festival headline acts registered with us. And finding facts about their performances, ticket prices plus attendance numbers over the decades.
Before the mammoth musical event this weekend, why not find out who's on the register and info about the years they performed.
1
Echo & the Bunnymen
First headlined: 1985
Ticket price in 1985: £16
Attendance in 1985: 40,000
CHS entry for Echo & the Bunnymen Limited
The Telegraph lists Echo & the Bunnymen in their top 20 of 100 best Glastonbury performances. They say they tore into their set with lean, stripped intent. We assume that's good.
2
Elvis Costello
First headlined: 1987
Ticket price in 1987: £21
Attendance in 1987: 60,000
CHS entry for Elvis Costello Limited
Elvis Costello headlined 3 times: 1987, 1989 and 1994. But don't mention 2005, Mr Costello said at the time "I don't care if I ever play England again". Elvis used a rude word to describe the festival back then, but he must feel better about things now as he's played Glastonbury since.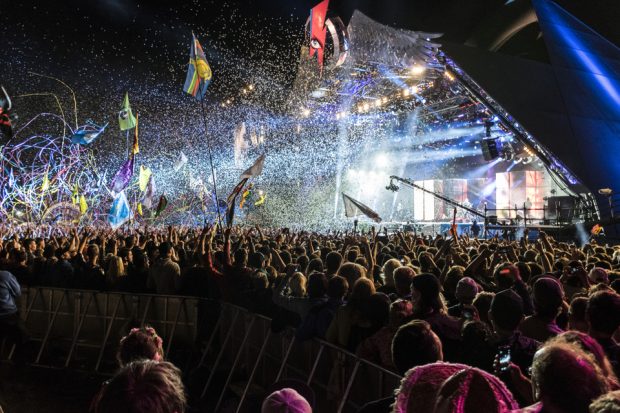 3
Oasis
First headlined: 1995
Ticket price in 1995: £65
Attendance in 1995: 80,000
Oasis have played a few times at the festival and have headlined twice: 1995 and 2014. In 1994 they were on the same bill as Blur, before their Britpop feud. When they headlined in 1995 Robbie Williams, who had recently left Take That, joined them on stage – rock and roll.
4
The Prodigy
First headlined: 1997
Ticket price in 1997: £75
Attendance in 1997: 90,000
The Prodigy performed the Pyramid Stage in 1997. Two years before they headlined, the then spikey haired hell raiser, Keith Flint, made a flamboyant debut entrance on stage in a giant hamster ball. And Maxim wore a dressing gown. Punk.
5
Radiohead
First headlined: 1997
Ticket price in 1997: as above
Attendance in 1997: as above
CHS entry for Radiohead Limited 
Radiohead have headlined twice and are billed to headline this year too. Their 1997 appearance often tops best of lists for Glastonbury performances, it's even in festival owner Michael Eavis's top 5 sets. A good thing it happened, because Thom Yorke nearly walked off the stage due to technical problems. Paranoid Android.
6
Pulp
First performed: 1998
Ticket price in 1998: £80
Attendance in 1998: 100,500
CHS entry for lead singer Jarvis Cocker
Pulp headlined in 1995 due to the Stone Roses pulling out at the last minute. According to the Independent, they were booked so late they were forced to camp as the hotels were all full. Perhaps the real reason is that they wanted to live like common people?
7
Blur
First headlined: 1998
Ticket price in 1998: as above
Attendance in 1998: as above
CHS entry for lead singer Damon Albarn
Like Oasis, Blur have headlined twice: 1998 and 2009. According to the Guardian, Blur's 2009 performance has gone down in history as one of the best performances. In that year Damon Albarn broke down in tears after To the End. You were not that bad Damon!
8
Manic Street Preachers
First headlined: 1999
Ticket price in 1999: £83
Attendance in 1999: 100,500
CHS entry for lead singer James Dean Bradfield
Manic Street Preachers have headlined the festival once, and first played in 1994. Their debut performance was notorious for bass player Nicky Wire's colourful language when he suggested that a bypass should be built over the farm. They were much happier about performing by 1999, though.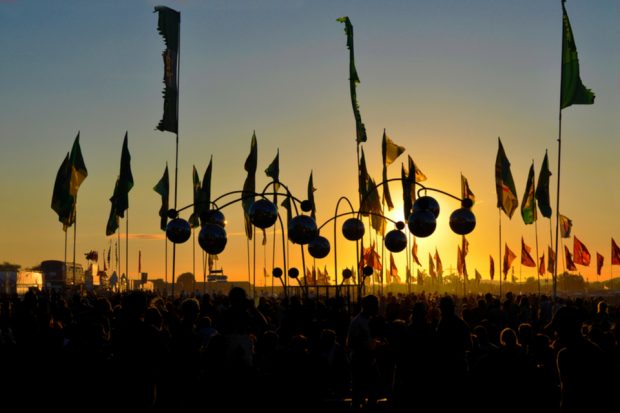 9
Muse
First headlined: 2004
Ticket price in 2004: £112
Attendance in 2004: 150,000
CHS entry for lead singer Matthew Bellamy
Muse have headlined Glastonbury 3 times. Last year Muse became the first band to headline the Pyramid Stage on a Friday, Saturday and Sunday night. That's greedy.
10
Adele
First headlined: 2016
Ticket price in 2016: £228
Attendance in 2016: 150,000
CHS entry for Adele's company Melted Stone Limited
Before headlining in 2016, Adele faced criticism for being too boring to front the festival. However, the Telegraph said the ballad singer pulled in 150,000 for her performance, rumour has it that it was the largest audience since the Rolling Stones performed in 2014.
Image credits: Benny Hawes/Shutterstock and Steve Briscoe/Shutterstock