Annnnnd bake! Tonight's the grand finale of the Great British Bake Off 2018. Series 9 started back in August, with 12 contestants eager to take on those technical challenges and signature bakes, and now we're down to the final 3.
Briony (my star-baker this year after that Alice in Wonderland pie – amazing!) sadly left the tent last week after mixing-up her sugar and salt. That leaves Kim-Joy, Rahul and Ruby to battle it out one last time in this year's final. Judges Prue and Paul will no doubt be raising the 'technical' bar, and the bakers will each need to create a show-stopper to beat all show-stoppers, if they're to be in with a chance of claiming the trophy. Whatever happens, I'm sure they won't disappoint, and it'll be smiles all round for the worthy 2018 winner.
Now, if you're anything like me, you sit and judge the bakers from the comfort of your sofa each week, while saying things like "that looks too runny", "should it be in the oven by now" and "surely that deserves a Hollywood handshake". But, my own baking repertoire is fairly limited and I'm pretty sure I'd 'crumble' under the pressure of the Bake Off tent. I make the occasional banana loaf or lemon drizzle, but wouldn't know where to start with a humped Madeleine or 7-layered Torta Setteveli.
For those of us who aren't 'star bakers', the good news is there's plenty of easy-to-follow, tried and tested recipes out there. Take the classic sponge, for example. You can't really go wrong as long as you include the 4 main ingredients – butter, sugar, flour and eggs.
Starting a limited company is much the same. You need 4 main ingredients to get you up and running. Get those right and you'll soon be baking your own company success.
So, what are the 4 main ingredients for a company start-up?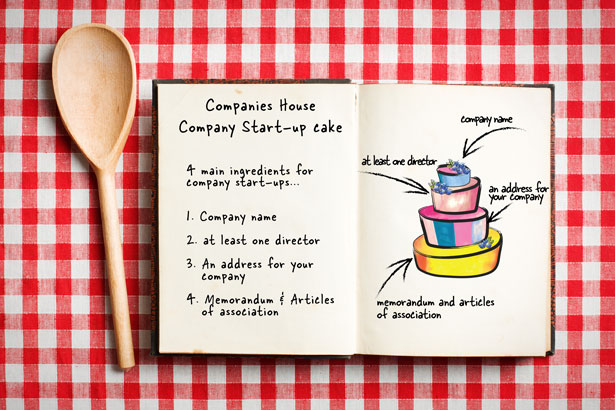 1. First up, you need a company name.
Choosing your company name can be one of the most important decisions you'll make at the start. So, it's worth taking the time to pick a good one.
Just like a good recipe, there's quite a few rules to follow for company names. For example, your name can't be the 'same as' or 'too like' a company name registered before yours. There's a company name availability checker that can help with this – it'll tell you whether your proposed name is acceptable.
Other rules include making sure your name isn't offensive. Obvious, yes, but worth checking. And if it contains a sensitive word or expression, you'll need to get approval.
2. Once your company name is sorted, you need to make sure you have at least one director.
A director must be 16 or over and not be disqualified from acting as a director. They're legally responsible for running the company, which means they have certain responsibilities and directors' duties they must perform. Making sure your company accounts and reports are prepared and filed on time, is one duty they must do every year.
Once you become a director certain information becomes publicly available. So, it's worth checking you're happy with the all details you've included on your appointment form, before filing it with Companies House.
3. Next up – you need an address for your company.
This is known as your registered office address. It must be a physical address in the UK, and must be in the same country that your company's registered in. For example, a company registered in Scotland needs to have its registered office address in Scotland.
You can use a PO box, but it needs to be part of a full address with a postcode. Your company address is where you'll receive official communications from Companies House, and it will be publicly available on the Companies House online register.
4. The final ingredient – memorandum and articles of association
When you register your company, you need a 'memorandum of association'. This is a legal statement signed by all the initial shareholders when you agree to form the company. Helpfully, there's a standard template you can use. But, make sure you're happy with this – as once your company is registered, you can't update it.
You also need 'articles of association'. These are the written rules for running your company and should be agreed by the shareholders, directors and company secretary (if you have one). Again, there are standard model articles you can use, or you can write your own – but if you do, just be aware you cannot register your company online.
Just like the classic sponge, once you've baked it a few times, you'll want to experiment a bit – add in a thick layer of cream and jam, some spiced apple, maybe pop on some edible flowers. And it's the same with your company. Once you've got the basics sorted, there's lots of help and advice out there to help you grow and develop your business.
Only one question remains – who's going to win the Bake Off? My money's on Ruby.
To keep in touch, sign up to email updates from this blog, or follow us on Twitter.