Hardly a week goes by without a notice appearing on our intranet saying there's a charity cake sale taking place. We love cake here at Companies House and it seems that this is reflected throughout the UK. You only have to look at the popularity of the Great British Bake Off and the number of cafés, restaurants and hotels offering afternoon tea.
Over the past 6 years, we've raised more than £60,000 for charity. More than £15,000 of this is attributed to cake sales. Even within departments, there are regular baking competitions and rivalry about who makes the best sponge or flan.
It won't surprise you to hear that we were very interested in the latest YouGov poll which rated the best British sweet foods. The rating scale embraced a range of cakes, desserts and puddings, with 'God Tier' being the best, and 'Crap Tier' being the worst.
In last place, by some measure, came the deep-fried Mars bar. Having visited Scotland a few times, I've seen this culinary delight on many a chip shop menu alongside the confusing "supper" option. As far as I can see, a supper means with chips but I'm sure one of my Scottish colleagues will put me right. Although tempted, I haven't tried this delight so cannot say whether it deserves its lowly position.
Above the Mars bar, in the low to top tiers, are a range of sweet delights including treacle tart, trifle, mince pies and Victoria sponge. But at the top of the list by some considerable extent is the scone. Now, I wouldn't consider the scone to be a dessert, more something you have with afternoon tea.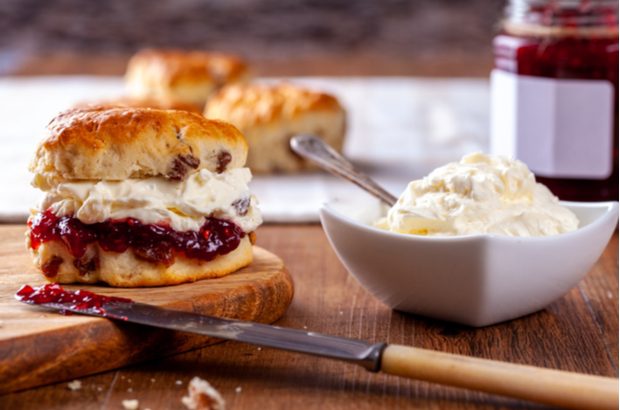 Of the items making an appearance on the list, the scone is one of the more controversial. Usually cut in half, the baked treat is then adorned with a generous dollop of strawberry jam and clotted cream. But what goes on first, jam or cream? This will depend on where you are, or if you're the Queen.
Traditionally associated with the South West counties of Devon and Cornwall, in Devon the cream is applied first followed by the jam. In Cornwall, it's the jam followed by the cream. The Queen allegedly adopts the Cornish way.
The next dilemma is the pronunciation. Scone (rhymes with bone) or scone (rhymes with gone)? This is much easier to answer. It's a scone (rhymes with bone) when you get it, and it's scone (rhymes with gone) when you've eaten it. But no matter how you pronounce it or how you compose it, it's our favourite.
The whole is only as good as its constituent parts, and it's crucial to use the best ingredients to make a quality product. Although there are many clotted cream makers, only producers within a specific geographical area can call their product Cornish clotted cream. This is because Cornish clotted cream is registered as a Protected Designation of Origin (PDO).
According to the product specification, clotted cream has been made in Cornwall for many generations and it's noted in 17th century literature. Some historians claim that the idea of producing cream was brought to the country by the Phoenicians around 300BC in return for the trade in tin.
One of the oldest Cornish clotted cream makers is A E Rodda and Son Limited. Established in 1890 and now a limited company, the family run business has been making clotted cream for over 120 years.
Knowing that your product or service has protection is reassuring and is one of the benefits of becoming a limited company.
A limited company is a completely separate entity from its owners. Everything from the company bank account to ownership of assets and involvement in contracts is purely company business, and separate from the interests of the company's shareholders. It means you have the reassurance of 'limited liability'.
Assuming no fraud has taken place, your 'limited liability' means you will not be personally liable for any financial losses made by your business. So a limited company can give you added protection should things go wrong.
Choosing a business structure is an important consideration if you're thinking of running your own business and there are a range of guidance pages, blogs and case studies to help you decide.
To keep in touch, sign up to email updates from this blog or follow us on Twitter.