Behaviour change is one of the primary functions of government communications – helping to change and save lives, run services more effectively and save taxpayers' time and money. Here at Companies House, our aim is to use behavioural insights or 'nudges' to influence positive behaviour change and achieve better outcomes for our customers.
As part of this work, we recently collaborated with the Behavioural Insights Team in a large-scale trial. The aim of the trial was to test different ways of communicating with limited companies, encouraging them to use digital services instead of paper to file their annual accounts.
With more than 4 million companies on our register and over 30,000 customer transactions every day, making these digital is critical to us providing an efficient service and meeting the increasing demands of our customers and stakeholders.
Every year, limited companies are required to file a set of accounts with us and 80% of them do so digitally. But 20% continue to use paper methods - costing time and money for all involved.
The trial
To improve uptake of digital filing, we tested 3 new versions of the reminder letter we send out to companies 35 to 42 days before their annual accounts are due.
All of the new letters (A to C) simplified information in the original version and gave a salient call to action to file digitally. In addition, each new letter tested a different behavioural message:
letter A (social norm): '8 out of 10 companies file online'
letter B (dynamic social norm): 'Over the past 5 years, online filing has increased from 50% to 80%. Consider filing online this year.'
letter C (messenger effect): "I file my accounts online every year. It was quick and easy. I would recommend it for everyone." Louise - company director
letter D (control letter): the original reminder letter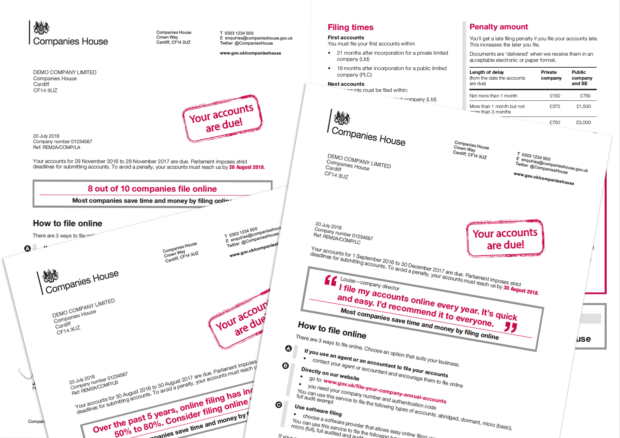 During the trial, 481,888 companies were sent one of the 4 letters.
The results
Our analysis revealed that the new letters did not make companies more likely to file by digital methods.
However, we did find that letter A (testing a social norm message) and letter C (testing a messenger effect) improved compliance, equivalent to a 2.4% reduction in the probability of filing late. We estimate that if all eligible companies on our register received letter A (the best performing letter) instead of the control letter, an additional 5,927 companies would file on time – helping them to avoid a late filing penalty.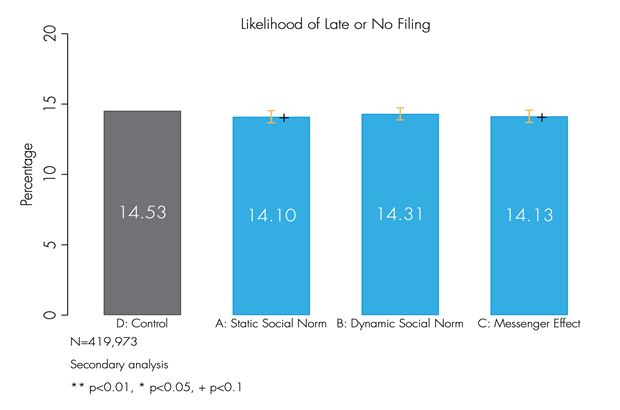 We also used data science techniques to find out what characteristics predict whether a company files by paper.
Unsurprisingly, the biggest factor that predicts the method a company chooses to submit its accounts, is how they did so last year. Additionally, companies are more likely to file by paper in their first year of trading. This may be because they are less likely to have fully established processes or are more likely to use an accountant for their first set of accounts. Companies older than 10 years old are also more likely to file by paper, suggesting the use of more established processes using paper.
Although our new letters did not increase uptake of digital filing methods, the trial (the first of its kind at such scale) did reveal a number of new insights.
Letters that simplify information, make key information salient and include behavioural messages (in particular using social norms) can produce real, albeit small, changes to company behaviour.
There may be timely moments, such as incorporation, when companies need additional assistance to achieve leading practice (such as digital filing) from year one.
Entrenched behaviours, such as filing by paper, are difficult to change through simple changes to existing letters. More targeted, frequent and personalised approaches are likely required to change the behaviour.
The future
Overall, our collaboration with the Behavioural Insights Team revealed real promise for the use of nudges to help companies make informed decisions. It also strongly indicates why the use of behavioural insights should become a standard part of the business and economic policymakers toolset.
Our plan is to continue to experiment with behavioural insights to make sure we're improving the experience of our customers.