Bring your whole self to work.
This phrase is often used to highlight the importance of diversity and inclusion. For me, it's about being authentic and understanding what makes you the person you are. Whilst this may sound straightforward, it's not always easy. How do you stay true to your values if they don't align with those of the people around you?   
In previous workplaces, there have been times when I've felt like a square peg in a round hole. This can be a pretty miserable experience and also had a detrimental effect on my work, as my confidence declined and I shied away from trying new approaches.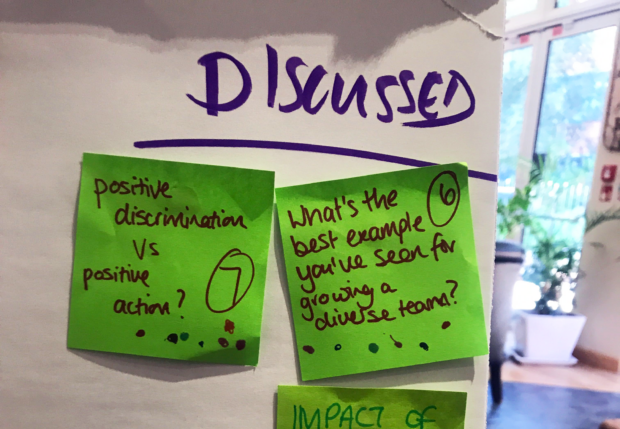 Culture Change at Companies House
Since joining Companies House in July, I've been impressed by the number of ways in which people are encouraged to share their opinions and challenge the way things are done. We want to become a brilliant organisation and these challenges will help us achieve this.
A variety of staff networks provide people with a platform to raise issues that matter to them, working together to make their voices heard. Our Culture Change Community brings these networks together, welcoming new ideas and encouraging people to be adaptable in their approach to work.
OneTeamGov Wales
Although I've only been working here for a couple of months, I've been collaborating with Companies House colleagues for much longer through OneTeamGov Wales.
Established 2 years ago, members of OneTeamGov Wales meet regularly to share ideas, thinking beyond our own professions and organisations to improve government services. Guided by 7 principles, which include being diverse and inclusive, we understand that people have different views and our meet-ups prioritise structured discussion over total agreement.
Be yourself
Being part of OneTeamGov has given me back my confidence. I've met people whose opinions I share, and others with whom I've disagreed. But we all share a common interest in broadening our horizons and benefitting from our diverse backgrounds and experiences.
With this in mind, the group recently hosted a breakfast discussion on barriers to diversity and inclusion. It was a great opportunity for people from Companies House and beyond to share concerns and learn from each other. We covered a range of topics including, 'What's the best example you've seen for growing a diverse team?' and 'What's the impact of not promoting a diverse and inclusive culture?'.
J
oin us
If you'd like to know more, why not come along to one of our OneTeamGov meet-ups or events?  We're a global community and welcome anyone who wants to help improve government services.
To keep in touch, sign up to email updates from this blog or follow us on Twitter.