When designing our digital services, our interaction designers must carefully consider the needs of our users.
In our latest podcast, Oceanne chats about work she's proud of and challenges she's overcoming. We talk about why users need to upload files, why stakeholders need users to upload files and why we need multiple file uploads.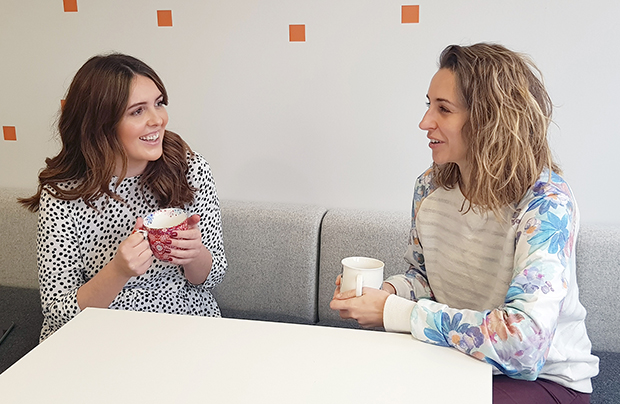 Listen to our podcast: Interaction design at Companies House 
Transcript
Megan Hayward: Hello and welcome to Companies House Meet the Team podcast. My name's Meg and I work in our external communications department, and I'll be hosting this series. I'm here today with Oceanne.
Oceanne Esparcieux: Hi
MH: So hello Oceanne and welcome to our brand new series. Thank you so much for agreeing to be our debut guest. I feel so excited about this series and I'm really pleased to be sat here with you today. How are you?
OE: I'm very well thank you.
MH: Good, how's January treating you so far?
OE: It's pretty dark. I don't think I've seen daylight for a few months but it's treating me pretty well.
MH: I feel like we're coming out the other side. The weather looks nice for this weekend.
OE: Yeah, I'm hopeful that we'll see some sunshine soon.
MH: So firstly can you just tell me your role title and how you fit into the wider team here at Companies House?
OE: I'm an interaction designer and I work within the product team which is situated in the digital department. And my job is to basically design the digital services that we have at Companies House. So everything is moving away from being paper-based and is hopefully going to be online within the next few years.
MH: That's fabulous. I think that's the way loads of places are trying to move.
OE: I hope so because I hate speaking to people on the phone and I hate filling out forms, so if I can do it online, it's a bit better.
MH: It's the future isn't it?
OE: Yeah.
MH: So I've had this plan that we're going to have these jokey opening questions to get us going at the start of every podcast, so obviously you're the first. So I'm going to start with… cats or dogs?
OE: Dogs.
MH: Tea or coffee?
OE: Coffee.
MH: Introvert or extrovert?
OE: Introvert.
MH: Night owl or early bird?
OE: Night owl. I've got one for you.
MH: What?
OE: Starter or dessert.
MH: Both. Starter.
OE: Good shout.
MH: Okay, so, moving on. Back to work. Which piece of work are you really proud of?
OE: I haven't been at Companies House for very long, so I've not had a chance to work on many services. But I did develop a service for applying for an extension for your filing deadline. And within that service, which has passed assessments and you can now use it online if you need an extension. Within that service, we have file upload and it was a pattern that we didn't actually have in government yet.
So I helped design it with my colleague, Ollie. So we helped build it and it's now available online. And it's not just a single file upload, you can upload multiple files. And it's going to be the standard across all of Companies House file uploads now.
MH: That's really rewarding isn't it.
OE: Yep, definitely.
MH: So why do users need to upload files?
OE: If they are applying for an extension, they need to upload a file to provide evidence to the team within Companies House that will decide whether the extension will be granted. And at the moment when it's paper-based or by email, 10% of all applications come with files attached. So we wanted to be able to give the user that same opportunity online as well.
And it makes them feel like their application is going to be considered slightly better because they're actually providing evidence for their reason.
MH: Yeah, that's really interesting. It's not just a tick box, it's giving that evidence that people can see their reasonings behind.
OE: They're not just saying they're ill, they're saying I was ill and here's a doctor's note.
MH: Yeah, definitely. So why do stakeholders need the users to upload files?
OE: So it allows the team, the internal team more information, to be able to make that decision. So not taking everything on blind faith, they're actually being able to dig in a bit deeper and make sure that they can verify things.
MH: So Oceanne, why do we need multiple file uploads?
OE: Good question. We currently allow multiple file uploads on our paper-based or email applications. And we find that 10% of all file uploads will have multiple file uploads. It allows the user to give extra evidence. So if they were ill and they have the doctor's note, maybe they're also in hospital and they have information about being in hospital as well, it just provides more information about the extension application they have.
We actually found that when we did the first release of the online service, that users were finding a way around it and creating zip files or pressing the back button to upload another file. So it just meant that it was a more elegant solution to those people that were able to find their way around.
MH: I think it's really important because I definitely know from services that I've used, quite often you have that one chance to upload one thing and it's choosing which one. It's important to give all the evidence that you have.
OE: Definitely, and it's so much easier for the user, they don't have to think 'oh, shall I create all of these documents into one PDF or?'
MH: And that just doesn't work.
OE: That's right, yeah.
MH: But hasn't the government digital service got a design for that already?
OE: GDS which is the government digital service, currently has a design for single file uploads. But they didn't have one for multiple file uploads, and it was something that had been discussed across all of the departments, so HMRC, DVLA, ONS have all discussed how they could create multiple file uploads. And no one was able to do it.
And GDS are really good at having quite open discussions, so everyone went away and designed their own, tested it made sure it was accessible and that uses understood what they were doing.
But, no one was actually able to have a fool-proof, accessible, multiple file upload that users were able to use every single time.
So I think that's why I was so proud that using all of the information that I gathered from these other departments that had done the hard work, I was able to amalgamate it and actually make it work for us.
MH: That's so amazing. And it's really nice that we're collaborating with the other government departments and creating really amazing things.
What file formats do you accept?
OE: We accept most file formats, so we expect people to upload PDFs or images, word documents and things like that. At the moment there's a limited number of things we don't accept. We don't accept videos and stuff like that but we do accept zip files still, so people can put whatever they like in there.
But we can only accept files that are 4MB or smaller, which might limit people uploading videos and stuff like that. But we found that the videos that users had previously submitted weren't really relevant to the case and didn't really help the internal team make a decision on the application.
MH: So why don't you say that on the page when the user uploads? Why doesn't it say that?
OE: We felt that if we had information about all of the things you couldn't upload it would detract and it wouldn't be a very smooth service. And because we accept so many file formats, it's easier for us to allow the user to go about what they do and then stop them if they're doing something wrong and tell them why rather than just having too many warnings and too much stuff to read.
MH: I think it's way more progressive to have the things you can do, rather than the things you can't.
OE: We haven't found that anyone hasn't been able to upload what they want.
MH: Yeah, that's great. What would you say the biggest challenge you're facing right now is?
OE: In my whole job right now?
MH: Yes.
OE: I'm currently working on a couple of different services and I'm struggling with one project at the moment, which I will keep secret for now. But it's making sure that the user fully understands what they're signing up for basically. So making the service appealing but also communicating that it can have quite severe consequences if you don't do correctly.
Because either the user doesn't want to read that so they'll ignore it or they might just miss how grave the situation would be if they do it wrong. So it's quite a difficult balance.
MH: Sounds like quite an exciting project.
OE: Yes.
MH: Can you describe your role to me in 3 words?
OE: If I hyphenate words and count them as one. So, it's definitely a creative role, and there is problem solving but I think the main part of my role is making sure that everything I do is user centred. Putting users first.
MH: Excellent. And if you were going to go and work in another part of Companies House, where would you choose and why?
OE: That's a really hard question. I like to think that I'd put my degree to use.
MH: Which is? Can I ask?
OE: It's in Film Production. So maybe I'd work in comms.
MH: Come work with us!
OE: But realistically, I love a spreadsheet. So probably somewhere in HR?
MH: Oh, I hate a spreadsheet!
OE: They're so cool.
MH: They're so hard.
OE: Yeah so maybe somewhere in HR, I don't know.
MH: Well thank you so much, that's the end of our questions for today.
OE: Thank you Meg.
MH: You've been a fabulous guest. So thank you and goodbye.
OE: Thanks. Bye.