The Corporate Insolvency and Governance Act received royal assent on 25 June.
We've worked at an extraordinary pace with colleagues at the Department for Business, Energy and Industrial Strategy (BEIS) to progress the legislation through the necessary stages over the last two months.  
These new legislative measures will help to further relieve the burden on companies during the coronavirus (COVID-19) outbreak so that they can focus their efforts on keeping their businesses running.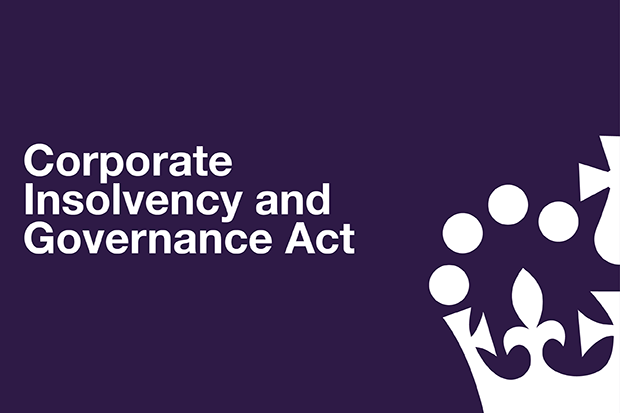 What the 

Act

 means for 

companies
We recognise the extreme disruption that the coronavirus outbreak has caused across the UK and we want to do all we can to support companies during this difficult time. 
The Act will:  
grant an automatic extension for confirmation statements, event-driven filings and 

registrations of mortgage

 charges

, and give most companies more time to file their accounts

 

allow more flexibility around when and how annual general meetings (AGMs) are held

 

introduce new corporate restructuring tools to the insolvency regime to give companies the time they need to maximise their chance of survival

temporarily suspend parts of insolvency law to support directors during this

 

time
This comes in addition to the other measures we've implemented over the last few months. These include granting an automatic accounts filing extension for most companies who applied before this Act came into force, and easing our strike off and prosecution activity. 
Maintaining our services for customers
Our work on the Corporate Insolvency and Governance Bill and the other measures we've introduced has been crucial, but there have been lots of other changes too.  
My biggest priority has always been, and will continue to be, the welfare of our employees. This has been carefully balanced with making sure that we continue to provide a brilliant service by listening to our customers and stakeholders and doing everything we can to support them during this difficult time.  
We had some huge challenges to resolve at the beginning of this crisis. Many of our teams were already fully equipped to work from home which meant that the transition to remote working for some colleagues was fairly straightforward.  
However, some colleagues had never worked from home and were not set up to do so, and we also needed to urgently reduce the volumes of paper coming in to all our offices.
We worked quickly to implement solutions, and the vital work we've done on transforming our culture over the last couple of years stood us in great stead to tackle these challenges.  
Some of our solutions include:  
We adopted our new 'adaptable, bold and curious' behaviours last year, and my colleagues amaze me every day with the way they truly live by these behaviours. Their willingness to try new approaches and share ideas has been more important than ever while we've been trying to address these enormous challenges.  
Working quickly and collaboratively has enabled us to achieve a lot during this difficult time, and we will build on this as we move into the next phase.  
What the future looks like
We're still working to make sure that customers can file as much as possible with us online, and work on our upload service will continue over the next few weeks.  
Although we've now started looking at what our long term response will be, we're not increasing the number of colleagues in our offices just yet.  
You can really help us to reduce the paper coming into our offices by filing online whenever you can. Filing online has great benefits for customers too, such as built-in checks and an instant acknowledgement.  
In the meantime, you can find all the latest updates about our services on our coronavirus guidance page.   
This has been an unprecedented challenge for us all, and we will continue to do all we can to support businesses over the next few weeks and months.