Businesses and shops on high streets up and down the country have adapted during the coronavirus (COVID-19) outbreak, and are able to welcome customers back to business-almost-as-usual.
In 2018 we interviewed Sophie and Matt, the directors of Hard Lines, an independent coffee shop based in Cardiff. We recently spoke to them about how their business has adapted during the last few months.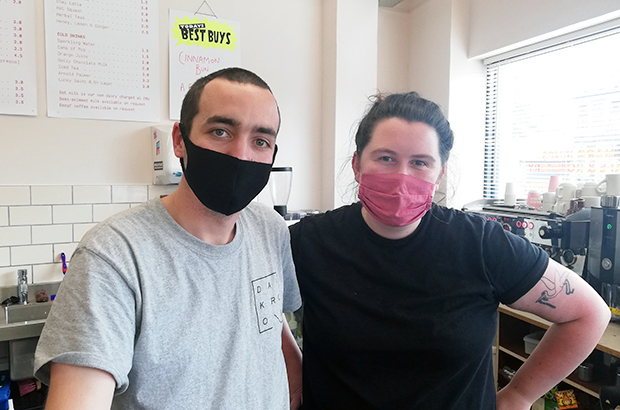 Hard Lines have 2 outlets, one in Cardiff Central Market and a new café and roastery which opened in the Canton area of the city in November 2019. As well as coffee and food to eat-in or take-away, Hard Lines sell coffee beans, freshly roasted on their premises, and brewing supplies. When both their shops closed at the end of March, they continued to trade from their online store. Sophie said:
On the Monday morning, I came into the shop to finish posting out orders. It quickly became apparent that I couldn't do that – there were too many orders coming in.
As the orders kept rolling in, Sophie and another member of staff continued working 5 days a week to roast coffee and process and deliver orders.
The biggest challenge for them was keeping up with customer demand.
We went from doing a couple of orders a week, to 100 a day at the highest point. We were handwriting every envelope and using tally charts to monitor stock.
They've now built in new processes to automate the ordering system and maximise efficiency.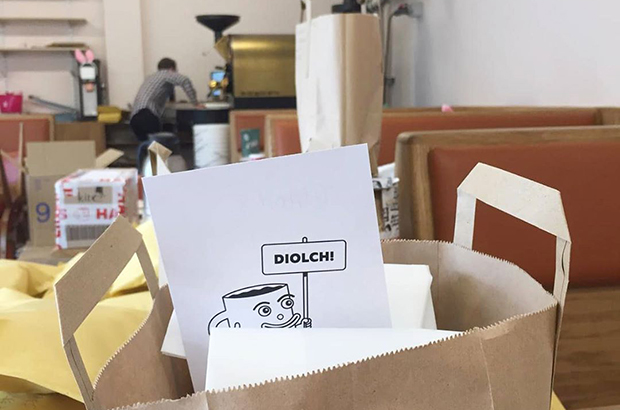 Government support
Hard Lines benefitted from a business rates grant, which has helped them deal with the changes they've put in place. They also utilised the Job Retention Scheme to furlough 4 members of staff during the peak of the outbreak.
The Canton café reopened at the end of June, firstly for take-out coffee and supplies and eventually for take-away food too. The team has been careful to not commit to doing too much too soon.
We started with one day a week, then we went to 2 days, 3 days, 5 days and built it back up slowly.
A limited number of customers are allowed in the shop at any one time and there is a one-way route to minimise contact between customers. The café now also offers food to eat on the premises with a reduced number of tables and a track and trace system in place.
As restrictions lifted and more people started to visit Cardiff city centre, the team began opening their stall in the indoor market at the end of August. They've started by opening on Fridays and Saturdays from 10am to 3pm but plan to extend their opening days over the coming weeks.
Giving back to the community
Sophie and Matt have always aimed to use the business to put money back into the community and projects that they really care about.
During lockdown, we did a big push on coffee for NHS workers. You could nominate someone who worked in the NHS and we'd send them a bag of coffee. In total, we sent 30 kilos of coffee around the country.
The business has also recently donated profits to the Black Lives Matter movement and to support coffee workers in Rwanda who have been affected by flooding.
Opportunities to expand
Although it's been a difficult time for the company and its staff, Matt and Sophie acknowledge that the experience has allowed them to grow as a business.
It's given us a chance to just pause, reset and re-evaluate the business.
The team had always wanted to explore the possibility of offering interesting alcohol to their customers so, while the business was closed to customers, Sophie and Matt took the opportunity to apply for a licence to sell alcohol on and off the premises.
As a result, they've just launched their new brand, Good News, to market their range of craft beer and wine.
The community Sophie and Matt have built since first opening the business 4 years ago has been key to their success.
There's a huge support culture, our loyal customer base wanted coffee at home and they wanted to support us however they could.

We've been overwhelmed by the support and growth. It's amazing that we've been able to put coffee in people's kitchens. You can't get any better than that really.
The government has published COVID-19 secure guidance to support businesses to reopen, and keep workers and customers safe so they feel confident to return. To find out about measures your business needs to implement to reopen safely, there's an online tool, which will direct you to guidelines specific to your type of workplace.
If you run a business and would like to know which of the coronavirus support schemes you're eligible for, you can use the business support finder tool. It takes just minutes to complete and will help you easily find support for your business.