For some considerable time, Companies House had been on nodding terms with Time to Change Wales, an organisation dedicated to inspiring people to work together to end the stigma and discrimination surrounding mental health problems.
We knew some of their people, they knew some of ours. You get the picture.
However, in 2017 our relationship went to another level when Companies House approached Time to Change Wales looking to forge closer ties by becoming a 'Pledged Employer', officially signalling our commitment to tackling mental health stigma and discrimination.
Here Martyn and Natalie sit down with Lowri Wyn Jones from Time to Change Wales - virtually and distanced, of course - to talk about the giant strides that have taken place since then.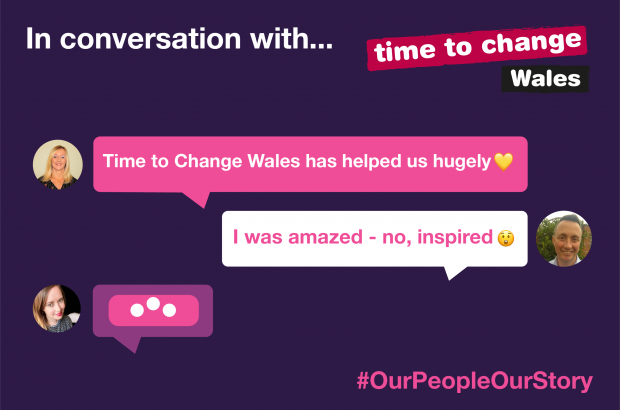 Lowri: It was Companies House that approached us, rather than the other way around. That's important.
We're proactive, but the real desire to change the culture of an organisation, creating something where the whole workforce feels able to discuss anything, not just mental health, really has to come from the employer first. Time to Change Wales can then help facilitate that.
Natalie: I'd volunteered to become a Time to Change champion 3 or 4 years ago, before Companies House even made that approach. I'd been talking to colleagues at work about it, and then Louise Smyth arrived as our new chief executive. She'd worked with Time to Change in her previous role at the Intellectual Property Office (IPO), and was keen to bring them on board at Companies House.
We had a discussion, got in touch with them and said 'Yes, we want to become a Pledge Employer'. Part of that involved coming up with an action plan outlining how we wanted to tackle the stigma and discrimination surrounding mental health. And it just grew from there.
Before you knew it we had Time to Change champions, then mental health advocates, then first aiders, then an actual Mental Health Network.
Martyn: I joined Companies House in 2018, a year after the pledge had been signed, and was amazed – no, inspired – by what had already been done.
I came from a private sector organisation where there hadn't really been any talk about mental health or Time to Change. Straight off, I made a commitment to Natalie to become a mental health advocate.
That was probably right at the start of our people transformation journey, when we still only had one or two networks as opposed to the 30-odd of today. But I think that openness to talk about mental health really underpinned a lot of what was to come.
In terms of our strategy, looking ahead over the next 5 years, that culture enables our brilliant people to flourish. It's really important that we listen to our employees and cultivate a safe environment where people are willing to be open about their mental health and talk to each other.
Lowri: I'd say you're doing really well at Companies House.
Having said that, I don't think there's really an end point to this journey. It's a constantly evolving process, and that feeling of always striving to become better is something I don't think should ever leave Companies House.
Listening to Natalie and her colleagues when they've presented case studies as part of our events, the drive and enthusiasm to want to keep going is always there. It's never about 'Yeah, we've ticked that box, job done'. To me, that's the crux of Time to Change.
It's not a task and finish process. It's not a qualification or an accreditation where you put a lot of energy into something and then move on.
We're talking about people's lives, about new people joining, about people leaving, that constant natural state of flux that you find in a workforce.
Martyn: I couldn't agree more. Just this week we had a mental health advocate meeting, and 4 new colleagues joined in who are all becoming advocates themselves.
All were open to sharing their stories about mental health, despite having only been at Companies House a matter of weeks. They could see what kind of culture we've developed since signing the pledge and were ready to open up in front of colleagues they'd probably never even met before.
It's something that just snowballs.
Lowri: That's interesting, because it shows how people who've joined fairly recently - and in the middle of a pandemic - have had a really good feel and experience of Companies House. Creating that kind of an impression on somebody who's joining an organisation for the first time is so important, and I think it sets you apart from other organisations that either don't offer that, or aren't at that point yet.
In fact if I was to name the 5 most successful organisations that I've worked with while at Time to Change Wales, then Companies House would be right up there. And I think what sets you apart is how you measure the impact.
A lot of organisations run activities but, actually, it's about stopping and reflecting, thinking 'Is this really making a difference?'. That's something we've seen evidence of when Natalie has presented surveys, along with looking at tracking sickness absence and records.
Natalie: That's great to hear, it really is.
Going back to the pandemic, I have to say it felt like we had everything already in place when the lockdown came in March. If anything, it shone a light on the success we'd had.
Now we're building on that. We've seen an increase in staff coming forward and reaching out for help, but I see that as a positive as it shows they feel comfortable doing so.
Through it all, and beforehand, I've drawn on resources provided by Time to Change Wales. They've helped me hugely in my role as Wellbeing Officer and Mental Health Network Lead, and I'm so grateful for that.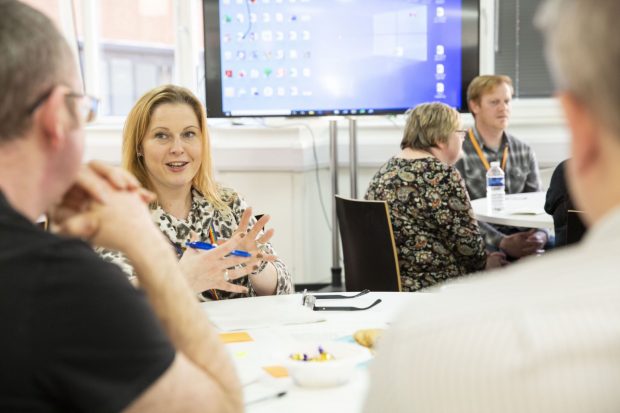 Martyn: Natalie hit the nail on the head there by saying we were set up to carry on when the pandemic came.
We talk about our overall strategy, one in which people can flourish, and I think a lot of that is down to the fact that our work with mental health has been employee-led. People really do feel they can reach out and be heard without any reprises coming back on them.
We were already in that space, but we've taken a step forward and adapted. Those coffee mornings we used to do in the office are all online now, as are the networks. It's been great to see.
Natalie: Lowri mentioned about us recording information. We've actually been looking at what we used to do, and how we're now doing those things differently, to evaluate changes that have happened as a result of the coronavirus pandemic.
For example, the mental health coffee morning that Martyn mentioned used to be a drop-in session and more of a general chat. When the lockdown happened, we thought 'Hang on, people can be reluctant to talk over screens. What about if we put some kind of theme on it and have a subject we can talk about'. And that's just exploded.
I did a quick survey asking people what they thought, and everyone - and I mean everyone - came back saying 'This is brilliant. We need more of it'.
Having that direction from Time to Change Wales in terms of evaluation has helped us improve and keep doing what staff want us to do. And we've been able to do it for staff across all our offices, not just those usually based in Cardiff, because we have mental health advocates in our regional offices across the UK too.
If anything, working remotely has engaged even more people because we're all able to do things together, albeit remotely, if you know what I mean! Bizarrely, it almost seems as if we're all now on more of a level playing field.
Our 5 year strategy details a new vision for Companies House and outlines our commitment to driving confidence in the UK economy.
Read more about how we're helping to make the UK the best place to start and run a business.