I joined Companies House at the start of 2020, when it had already begun its transformation journey.
The Department for Business, Energy and Industrial Strategy (BEIS) published a wide-ranging consultation on corporate transparency and register reform in 2019. It included proposals which represent the most important changes to company law since the register was first created in 1844.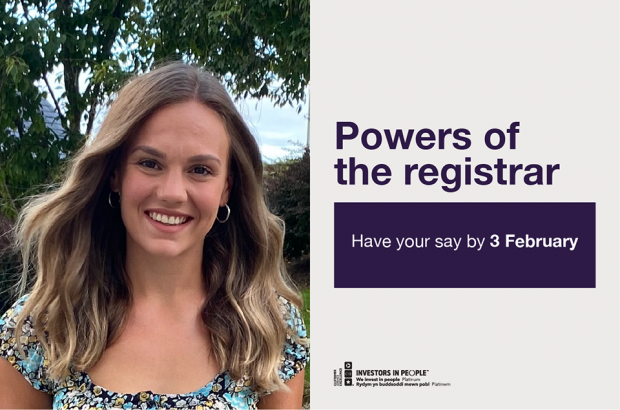 Whilst Companies House is committed to improving the integrity of the register, the registrar is currently required to accept documents in good faith and place them on the register. This means that the registrar does not have the power to query a document - and that inevitably attracts criticism of Companies House.
In the 2019 consultation, we therefore asked a specific question about whether the registrar should have the power to query information and ask for evidence to support this, where appropriate. We received strong support for this proposal and, as outlined in the government response, the need for this power is clear. It will ensure that Companies House is fit for the future and continues to make a valuable contribution to the UK's business environment and the fight against economic crime.
It's been exciting to work on the policy of reforming the future powers of the registrar alongside our colleagues at BEIS. We've been drilling down into the detail of how this new querying power might work, and BEIS has published a further consultation to test our proposals.
Future powers of the registrar consultation
Through this consultation, you have the opportunity to give your views on how we're reforming the role of the registrar. We welcome your views on the 3 main areas:
Introducing a new power to query information
Chapter 1 focuses on the new power to query information and outlines the scope of the power and its application using a risk-based approach. It also sets out how the new power will apply to company names.
Reform of the registrar's existing powers
Chapter 2 sets out proposals for reviewing and reforming some of the registrar's existing powers.
Some of these proposals, such as closing current loopholes to prevent fraudulent re-appointment of company officers and extending administrative removal powers, are in response to concerns that current processes for amending and correcting information are complex and often require external input.
Rules governing company registers
Chapter 3 covers proposals for changes to the company registers regime. Elements of the company registers regime are likely to be impacted by wider register reform proposals.
In the government response, the government committed to changing the legislation to move the point of legal effect of a director's appointment. This will impact the practicality of a company keeping its own statutory register of directors.