We've all heard of the saying 'communication is key', but it's becoming increasingly important for us at Companies House. With our change in status, Register Reform and the launch of a new 5 year strategy, it's never been more important to sustain an open dialogue with our key stakeholders.
The Business Information Providers Association (BIPA) is one such organisation we regularly engage with. Established in 2011, it comprises the 7 principal commercial credit agencies in the UK. Its members represent companies who use our registers regularly to inform critical business decisions every day.
After an unprecedented few months, BIPA's current Chair, Chris Oatts, took some time out of his day to talk with Robbie McNeil, service owner for 'Get company information' at Companies House, to discuss just how important our data is for businesses, especially during the COVID-19 pandemic.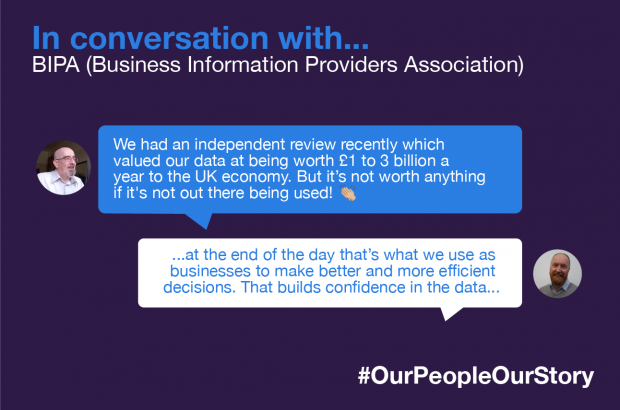 Chris: The accuracy of the data on the register and timeliness of that data is so important to us because we have responsibilities to our users who rely on this information for their businesses. We've been regularly engaging with Companies House over the past few years and we're really impressed with the recent level of engagement we've had.
Robbie: I totally agree with you, Chris. In previous roles I had meetings with members of BIPA, as individual entities and as part of the association. And our interactions have definitely become richer over time.
The key thing for me in my current role is that we talk about the value of our data to the UK economy. We had an independent review recently which valued our data at being worth 1 to 3 billion pounds a year to the UK economy. But it's not worth anything if it's not out there being used!
It's vital to have a two-way conversation with the organisations that use our information and it's in all of our best interests to keep that engagement going.
Chris: Yes, and I think we can sometimes take for granted the running of the register and the data it provides.
The recent Register Reform consultation includes ideas that as users of the data we've encouraged for years, like improving the accuracy and fullness of the data on the registers as well as the timeliness of it. Because at the end of the day that's what we use as businesses to make better and more efficient decisions. That builds confidence in the data, so we're pleased to see that Register Reform is going in that direction – the right direction!
Robbie: Great point and yes, policies are shaped by reality in the market, it isn't just decided in isolation. I've been at Companies House for a long time and we all have a role to play in that data and how it helps to build trust and confidence.
So, what is Companies House doing when it comes to building trust and confidence in its data? There are a few themes we're focusing on: timeliness, accessibility and accuracy.
Robbie: When it comes to the timeliness of our data, we've introduced a streaming API service which means we can publish data in real time to Companies House Service (CHS). We already have streams for family history, company profile, insolvency, and charges. We also have streams ready to go for officer and people with significant control (PSC) information, which is highly valuable information.
Chris: And we welcome that. That's the way information will be consumed in the future. We like the fact that Companies House are releasing these improvements along with regular communication in parallel.
Robbie: We're also working hard to ensure that our data is accessible to all by following the new Accessibility Regulations and developing our services in line with it.
In terms of accuracy, it's more my colleagues on the filing, intelligence and enforcement sides that deal with it, but it's something I have a very keen interest in because I'm the one putting the data out there and I want it to be to be correct. So we're setting up a data quality framework and that will be built on six data quality dimensions - completeness, consistency, conformity, accuracy, integrity and timeliness, and we will be establishing a pipeline which will ultimately monitor the data quality level. We also recently added 1.5 million dissolved company records to CHS going back to 2010, so that availability of historic data will help.
Also, the response to our Corporate Transparency and Register Reform consultation gives us scope to verify the identities of people filing with us. I think that's a massive step forward. The quality of our data is going to be even more important in a post-COVID world as businesses try to recover.
Chris: Yes, we've all been hit by COVID, but I think the themes within the government consultation response you mention about accuracy and timeliness are key. There are sets of accounts on the register that reflect pre-COVID life, and people are having to make decisions based on that data.
In addition, the data on the register must represent the truth about a company. This truth along with timeliness will help drive the economy.
Robbie: Yes, Register Reform is a real paradigm shift for us and a really welcomed one. If we are talking about the data inspiring trust and confidence, that's a huge step towards boosting it.
I'm really proud of what Companies House has done with CHS in the past 12 months; there's more we want to do with it but it's a great service with a lot more potential than we can leverage.
One thing I'm really excited about that's coming up in the next few years is our enhanced search and reporting service. This will give users the ability to search terms or ranges of all the companies incorporated or dissolved between certain dates, businesses in a particular area, or those with a particular SIC code.  You will be able to mix and match the search criteria and get a set of results that match exactly what you're looking for.
Chris: It's been amazing how quickly we've all managed to deal with working from home and keeping our services going. It gives faith that if another crisis happens again, you know we can still keep things moving and make sure we're in the best position to help customers and in turn the economy.
Our 5 year strategy details a new vision for Companies House and outlines our commitment to driving confidence in the UK economy.
Read more about how we're helping to make the UK the best place to start and run a business.