It comes around annually and for fans it's the most important weekend of the year. You've guessed it, the Eurovision Song Contest. The UK hasn't won for a while, in fact it's 21 years since Katrina and the Waves lifted the trophy in 1997 with "Shine a Light". All together now... no? I can't remember how it goes either.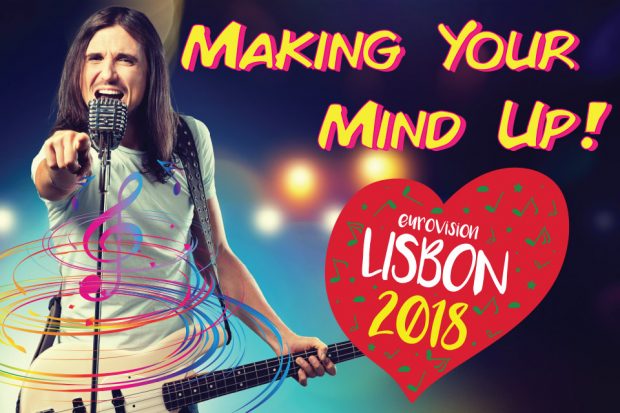 But the UK is still one of the most successful countries in the contest, having won on 5 occasions. Can you name them? I'm sure, if you're old enough, you'll recall Sandie Shaw (put some shoes on), with the song "Puppet on a String" in 1967, Lulu with "Boom Bang-a-Bang" in 1969, Brotherhood of Man with "Save Your Kisses for Me" in 1976, Bucks Fizz with "Making Your Mind Up" in 1981, and of course, Katrina above. Surprisingly, Sir Cliff only came second with "Congratulations", and that was 50 years ago.
Are you sure? Yes, that was the 1961 entry by the Allisons. The competition has been around since 1956 and the UK has been present in all, bar the first. As with all competitions, there are rules which include: the maximum duration of every song being 3 minutes, live animals are forbidden on stage (but puppets may be brought on), and all artists competing in a semi-final or only in the final must be at least 16 years of age.
Representing your country brings with it great responsibilities, not unlike being the director of a company. Becoming a company director is not just a title, the role has duties and responsibilities that you cannot ignore. If you're considering becoming a director, do not underestimate your obligations to the company and its shareholders.
Our joint webinar with HMRC and the Intellectual Property Office provides useful information for new directors, and those thinking of starting a limited company. You'll find out how to register the company (incorporation) and your responsibilities as a director to Companies House and HMRC. You'll also learn how intellectual property, such as patents and copyrights, could affect your business.
Join our next webinar on Thursday 24 May, 11am to 12pm - registration is quick and easy.
Like a Eurovision contestant, a director must be over 16 years of age and cannot have been disqualified from being a director. Directors are legally responsible for running the company and making sure company accounts and reports are properly prepared. If you do not do this, you could be fined.
Companies have limited liability. In most instances, this protects directors and shareholders if the company gets into financial difficulties. So, think carefully before you take on the role of a director and get advice before "Making your mind up".
For more information, here are some useful links to other webinars and podcasts:
Our recent Eurovision entries have had limited success, with our highest position in the last 10 years being Jade Ewen's fifth place in 2009, with "It's My Time" (it obviously wasn't). Even the great Engelbert Humperdinck could only achieve twenty-fifth place in 2010.
This year's extravaganza will be taking place in Lisbon on Saturday 12 May and we'll be fully behind SuRie, or Susanna Marie Cork, and her track "Storm". Let's hope we do not hear many "null points".
If you're thinking of going to watch the live show in Portugal, please make sure you do not take any of the prohibited items. Understandably, these include explosives, toxic substances and drugs. But, if you were thinking of taking ladders, golf balls or a trolley... don't. They're banned.
To keep in touch, sign up to email updates from this blog, or follow us on Twitter.