Okay, so it's a bit tenuous. But following last year's blog about a well-known rugby ball manufacturer, it's quite difficult to find another link to the Six Nations.
I suppose it's like the difficult second album or the film sequel, which I have a blog about coming soon. So watch this space.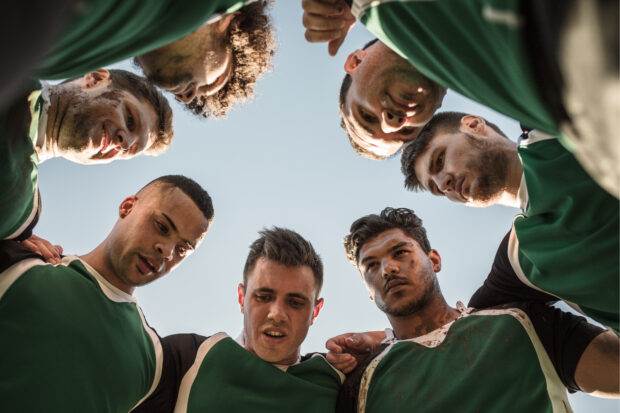 Team structure
A rugby team is made up of 15 players of varying shapes and dimensions. Most you would not want to sit behind in the cinema, or spill their pint.
Each player has a set position and role. There are different types of company structures, but a private limited company is made up of at least one director and one shareholder. A private limited company does not have to appoint a secretary, but may choose to do so.
Who's in control?
Each rugby team has a head coach. The head coach has overall responsibility for picking the team and dictating the tactics. Ultimately, they're responsible for the way the team plays, and possibly its success or failure.
In a company there's usually a person or people with significant control (PSCs). This is someone who has a controlling influence over the company. For example, anyone with voting rights or more than 25% of the shares.
A home ground
Each team will have a home ground, a fortress where the opponents will be filled with dread when walking onto the pitch. Twickenham, Murrayfield, the Principality Stadium (Millennium in old money), Stade de France, Stadio Olimpico and the Aviva Stadium.
As a supporter, if you're going to see a game, you know where to go. A company must have a registered office address which, like your Six Nations home ground, must be in the same country your company is registered.
Rules and regulations
All the best games need a good set of rules, but the rules of rugby seem more complicated than most. In fact, the downloadable Laws of the Game runs to 132 pages and covers everything from the size of the playing field to grounding the ball.
Did you know a scrum half must not take any action to make the opponents think the ball is out of the scrum, while it's still in the scrum? And you're not allowed to run with the ball up your jersey. (I think I made the second one up).
The World Rugby website has a description of each law and a handy video showing an example of the law in question.
When starting a company there are laws you must follow. These are the memorandum and articles of association which you must include when you register your company. We have examples you can use as a template, and most new companies will choose to adopt the model articles.
You should seek advice from a legal specialist if you want to alter these to suit your company, or create 'bespoke' memorandum and articles. (In my opinion, these are less complicated than the laws of rugby).
Replacements and new appointments
During the match each rugby team can use up to 7 replacements. This could be for tactical reasons, to take the place of injured players, or just to offer a fresh pair of legs.
In a company you can change the directors at any time. But you must tell us of any changes to your company within 14 days of the change.
Being successful
Lastly, the aims. The aim of any rugby team and any company is to be successful, and not necessarily in financial terms. 
Some companies will be not for profit or to benefit the community. And some sports teams are there just for fun - success can be judged on the enjoyment of the participants.