A change is as good as a rest, so the old saying goes. After my day spent volunteering, I would certainly agree. Here at Companies House, we think it's important to help the local community by giving back some of our time and effort. 
One of our corporate social responsibility targets for 2019/20 is to provide 500 volunteering opportunities across all our offices. This could include anything from volunteering on school trips or crafting in the foyer to roaming the hillsides to fix fences and litter pick.  
The communications team volunteering day at Tŷ Hafan's warehouse in Bridgend was arranged some time ago but quickly appeared in our diaries for 4 April. Come the day, 11 hearty souls were fighting fit for the challenge ahead. Tŷ Hafan is one of the UK's leading paediatric palliative care charities and offers the only children's hospice service in south Wales. The charity provides comfort, care and support to life-limited children, young people and their families throughout Wales.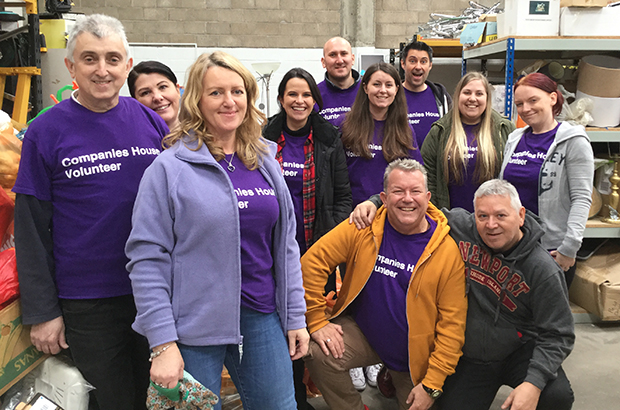 In the days leading up to our volunteering day, the weather had been warm and sunny. But it's always the same. As soon as you have something planned, the weather decides to take revenge and the evening before it decided to hailstone. In the morning, there was half an inch of frost on the car and -1°C on the temperature gauge.  
The jeans, hoodie and gloves were called for so the shorts and t-shirt went back into the cupboard. Warehouses are not heated. First question of the day for my car sharing colleagues - do you know where we are going? No, we thought you did. Between the 3 of us, no one had the postcode. We are more creative than logical in comms. 
Thank goodness for WiFi. A quick search and we headed off down the M4 to junction 35 in horrible, icy rain. A drive-through coffee later and we were outside the Tŷ Hafan warehouse.  
The day started with an overview of Tŷ Hafan. Tŷ Hafan opened in 1999 and immediately began to bring much-needed comfort and support to families in Wales. It costs over £4 million each year for Tŷ Hafan to provide specialist one-to-one care and outreach services to life-limited children, young people and their families. This funding is raised in many different ways including organised events, the Crackerjackpot lottery, donations and a network of charity shops.  
Our job was to sort through toys, books, records and other goods for distribution to the shops. Split into 3 teams, I found myself looking through and boxing up vinyl records with instructions to put anything valuable to one side. In the first batch, amongst the Val Doonican and Hawaiian classics, I found an original Beatles White album in good condition. In the next, an original Jimmy Hendrix 45 single of VooDoo Child. These albums will now be sold on Tŷ Hafan's eBay site, another income stream for the charity.
It's amazing what some people regard as rubbish, but it also reminded me of the things I've thrown away that were working perfectly but a little dated. I'll certainly be donating more to charity and thinking carefully before taking things to the local tip.  
After filling several boxes, the shelves were neat and tidy and the records were ready to be collected. Then, on to the toys. Bags and bags of toys had to be sorted to make sure they met safety standards and were in good enough condition to be sold. We found everything from vintage Disney merchandise to classic board games from the 90s. With a few hours under our belt, we'd sorted and filled over 120 bags! We were told that every bag of acceptable toys was worth £20 to the charity. Well done, team. 
It was a great day doing something different with the team and raising money for a great cause. If you get a chance to volunteer, I can highly recommend it.