Read our Q and A with communications co-ordinator Donna Callan on her recent day working at a shelter looking after abandoned dogs in Cardiff.
Where did you volunteer and what did you do?
Friends of the Dogs Wales (formerly Friends of Cardiff Dogs Home), which has been set up to help stray and abandoned dogs. We had a tour of the centre and then took dogs out for walks near the home. We also helped clean the walled sensory garden, an outside area for the dogs.
Who did you volunteer with?
Other colleagues on the digital communications team. There was eight of us including me (Jac, Esmé, Val, Viv, Stuart, Tanya and Sara), some who have dogs and others with little experience with them.
Here's Viv explaining why she likes volunteering for Friends of Dogs Wales (video courtesy of Cardiff Council's Facebook page):
How often do you get the opportunity to volunteer?
Three times a year as part of our commitment to Corporate Social Responsibility. This is the first volunteer day of the year for me. I really enjoyed the experience, more than I thought I would. In fact, I liked it so much that I am going again in July.
Did you feel you gave something back to the community?
Yes I feel I gave a few dogs the chance to escape their relatively small concrete and wire cages, which are their homes for 22 hours a day. They got the chance to run, walk and explore the outdoors and have the human interaction they so desperately crave. These dogs are in the home through no fault of their own and deserve a good loving home. So not only did I give a day to help out I will continue to promote the centre and their amazing work and hopefully then dogs there will be re-homed.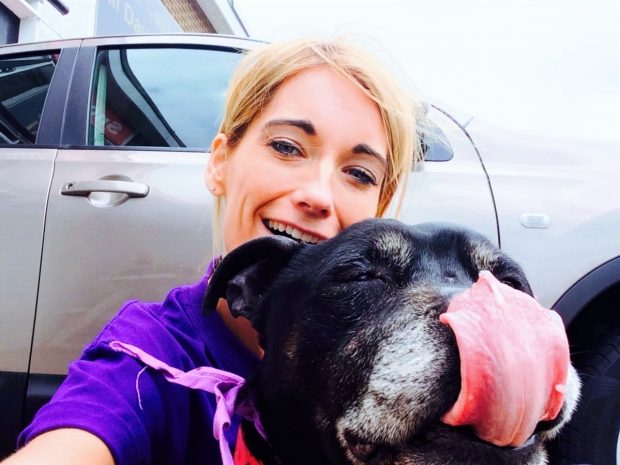 What was the best part of the day?
I laughed and smiled so much during the day, it was lovely to be out in the fresh air, keeping fit and active. I have so many good memories: my selfie-loving dog 'Vince' (an older dog who also loved sitting on your lap); and my crazy running companion Patch, who fell over in a heap after our run. Patch loved running and even took me for a run at one point by taking the lead.
The funniest moment was Tanya and myself sprinting up the road frantically trying to hold onto our dogs and coats while they got tangled up and cut in front of us. We came back to the centre sweating, gasping for breath but with huge smiles on our faces and I think the little dog that came with us, Isla, ended up being an inch smaller going back!
Were there any parts of the experience that you did not enjoy?
The picking up dog poop, but luckily Tanya did that for me.
Did you want to take a dog home?
Yes and no. I like dogs but unless they come up with a machine to clean up dog poop I won't be getting one. However, they had some very friendly, well-mannered dogs who would make such great family pets. My favourite dog was one I nicknamed Princess. All Princess wanted to do was lounge around -- definitely my kind of dog. Her chilled out demeanour was surprising as she had allegedly been through a very traumatic experience.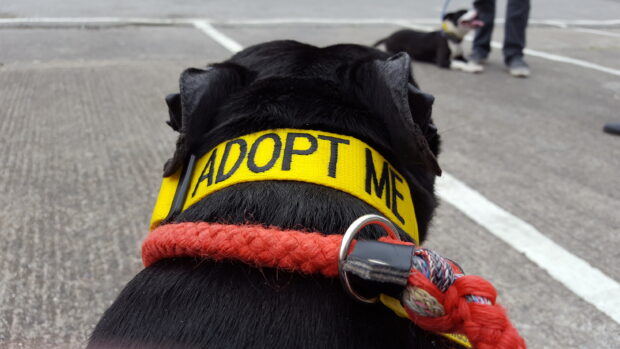 Any final thoughts?
I found volunteering a great day out, I especially enjoyed doing something different and I hope I made a difference even in a small way. I am so thankful that Companies House supports volunteering and enables staff to use their time towards helping others.
You can become a dog walker too, help out in a variety of ways or even adopt a dog. Find out more about Friends for the Dogs Wales and how you can volunteer for the organisation.