We're beginning a series of blog posts interviewing a variety of startups in the UK to see why they began their limited companies and advice for people wanting to do the same.
Dusty Knuckle Pizza is a startup pizza company based in Cardiff, south Wales. It's recently been rated by the Guardian as one of the 10 best pizzerias outside London and they're Sunday Times Magazine's top 3 former pop-ups turned restaurants.
We met with co-founder Phil Lewis at his courthouse restaurant to find out how he went from a hobby building pizza ovens to having a unique outside eatery in a trendy location.
What inspired you to start Dusty Knuckle Pizza?
I was head of social care for a national charity, and before that working in homelessness. My partner and I had another child and she didn't want to go back to work [she was a manager in a homeless hostel]. So we thought we'd have to change our lifestyle somehow in order to enable that.
I always had on the back burner this idea of starting a business and had been building pizza ovens as a hobby in my garden for years. I had designs and thought "if I could get this on wheels this would be amazing, I could go around street food festivals", and that's what kick started it really. The concept was there for probably about 8 to 10 years, having the baby was just that kind of push that we needed.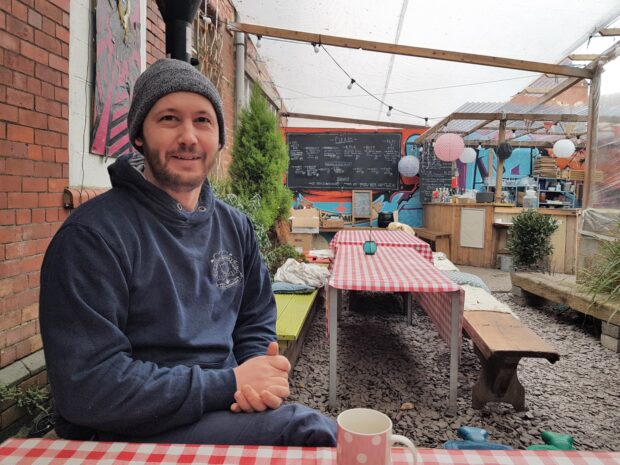 How did you start your company?
We thought if we're ever going to step away from that 9 to 5 lifestyle and do something different, then now's the time. We sold my car and bought a van and then I built an oven on a little stand on wheels. We then started doing street food events, contacting local markets in Cardiff. That's how we developed really, building up a customer base. We started getting private bookings from the markets and grew; I built a second oven and then a third.
The name Dusty Knuckle Pizza, what's the inspiration behind that?
I was kneading dough and I was like "ah, dusty knuckles" and it kinda stuck. We didn't want to be the wood fire pizza company or the Italian pizza company, you know, it's just a lot of generic words put together. Our philosophy is different, we didn't want a generic name, we wanted something that highlighted our differences. For example, our toppings are very different [they use local seafood such as Penclawdd cockles, lava bread, and samphire, among others], we play around a lot and our setting is very different to a standard restaurant.
Thought of a company name and unsure if it's taken? Use our company name availability checker to find out.
Why did you become a limited company?
We were really keen to get going and bumbling through a little bit at the beginning and my partner Deb set up as a sole trader because she was leaving work to do this full time and I was still in work. We very naively went "oh yeah, that's what we'll do" so it was really ill-informed, it wasn't necessarily a bad thing it just wasn't thought through.
I think in June 2015 we took on an accountant and he sat down with us and said "so why are you a sole trader?" It was professional advice that said, "you're growing and it would probably be a good idea to become a limited company". And we looked into it and thought "yeah, that's definitely what we should be doing".
We saw that there are situations where the debt stays with the company and therefore if we don't want to put our house or family at risk, which we would under a small trader, I believe. [Having a limited company] feels like a separate entity: the company is there and we are employed by the company.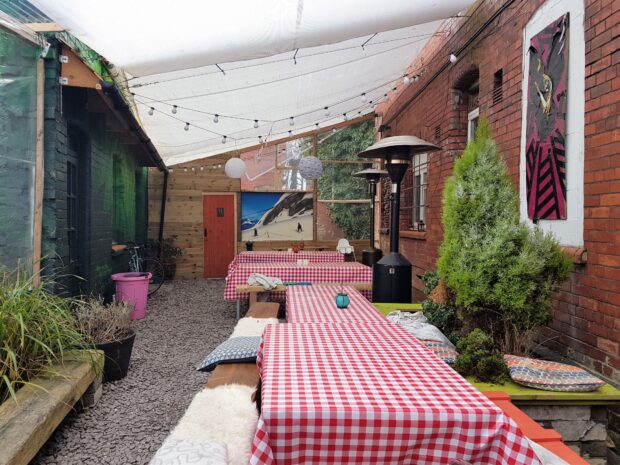 What's the vision for your company, how do you see it developing?
While we would like to find something eventually or another premises that did have an inside offering, we wouldn't want to lose this outdoor experience. There's very little, if anything, like this in Cardiff or anywhere nearby. People love it. People are coming in saying this is amazing, this is very special. We wouldn't want to lose that.
What would you say are the biggest challenges you've faced?
For us it's been stepping away from a comfortable, regular salary without having to. Our employment came with very different pressures and different stresses, but ultimately you were employed by someone and you were paid on the 15th of every month. You knew what you were getting when you were getting it. So running your own business is changing your mindset to that.
We've got 4 children and me and my partner now run a business that takes a lot of our time, so they're very personal challenges but I think it's going to be real to anyone. You have to be flexible and expect a complete change in lifestyle.
If you could, is there any business advice you would give to your younger self?
In the beginning we spent a very long time getting our paperwork in order. We were not negligent of it but, you know, everything went into a box and we thought "we'll sort that out later", which is a terrible idea! I would've probably told myself to stay up that extra half hour and sort that out because the 5 weeks or whatever it takes at the end is not worth it.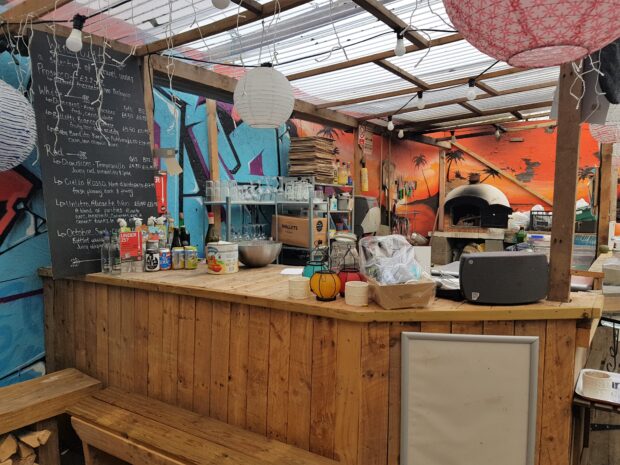 How can people try your pizzas?
If you're Cardiff based you can come to the restaurant on a Friday and a Saturday and starting from March we'll be here 6 days a week. Or you can look us up on Twitter, Facebook or our website and see what pop-ups we're at.
Do you have any advice for making pizza at home for #NationalPizzaDay?
Don't use an oven, dry fry them. One of the most important things about a pizza is the temperature that you cook it at. It's gotta be as hot as possible, a conventional oven will never get there. Get a dry frying pan burning hot, drop your dough in there, put the toppings on and place under a hot grill to cook the top.