Brewing of beer dates back thousands of years to the origins of humankind.
We've always known beer. From humble beginnings as a mix of fermented grains, water and yeast, to the plethora of ales available across the world today.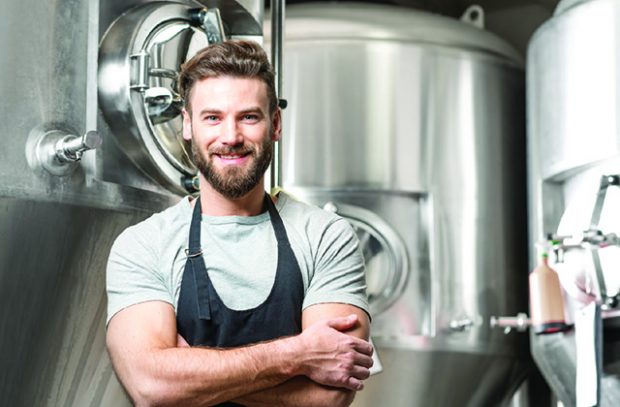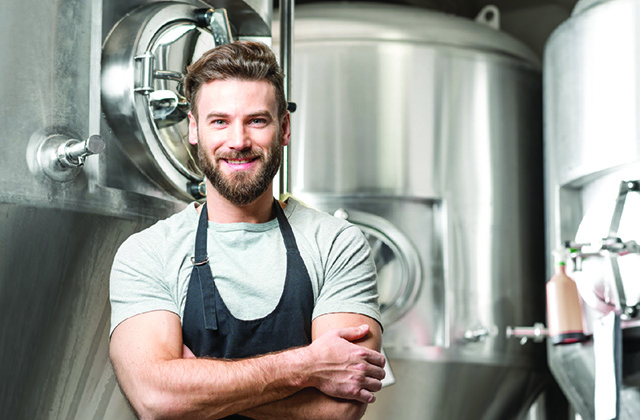 Some of the oldest names in UK business are brewing corporations.
The Three Tuns Brewery was granted the first official brewing licence in 1642, and still exists today. Part of the original sixteenth century brew house is still used, which would make it the oldest working brewery in the UK.
Shepherd Neam also claims to be Britain's oldest brewery. It was officially founded in 1698, but there's evidence that its heritage is even older.
The oldest breweries incorporated as limited companies date back to 1880. Marston's, Molson Coors and Wadworth were all registered that year.
Incidentally, the UK's first registered trademark in 1876, was the Bass Red Triangle.
The rise of the micro-brewery
The past 10 years have seen a real boom in the independent brewing and craft beer markets.
Growth of sales in both pubs and supermarkets has encouraged more people to open their own micro-breweries. A modern trend for niche produce, like gluten-free or vegan, has boosted the production of specialist craft beers. It's become so popular, even the major companies have released their own artisan-style branding - emulating the micro-breweries in a somewhat ironic marketing strategy.
This boom in the craft beer market is also evident on the company register. Of the live companies on the register, 34 were incorporated in 2007 as 'manufacturers of beer', compared to 378 in 2017.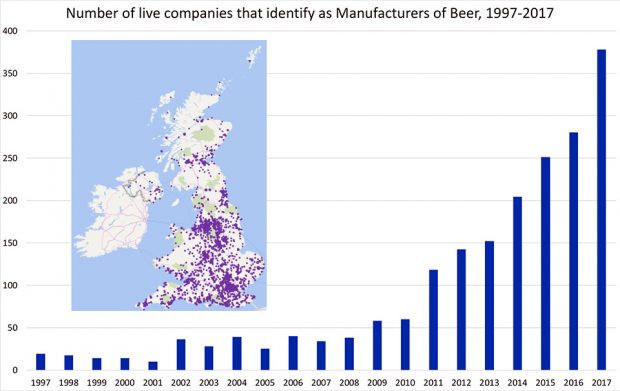 One of the first to make a huge impact on the market is BrewDog, who re-registered as a public limited company (PLC) in October 2009. A PLC is a limited liability company which is able to sell its shares freely to the public. This allowed the directors to expand their business through a crowdfunding scheme called 'Equity for Punks', offering shares in the company in return for discounts at their bars and on products.
Last year, we featured a series of blogs on UK start-up companies, including an interview with Cardiff-based company Crafty Devil Brewing. Another multi award-winning local company, with their flagship Welsh ale 'Cwtch' (look it up), is Tiny Rebel from Newport.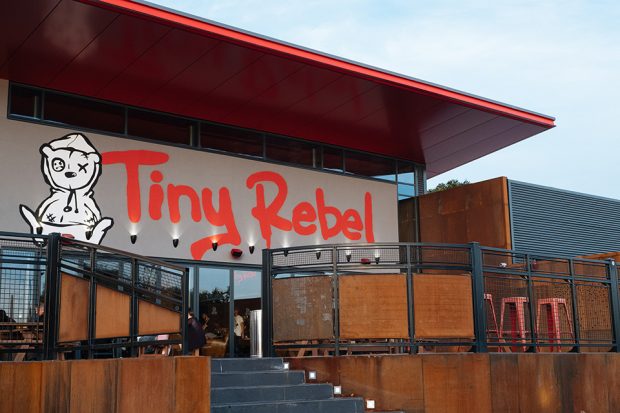 In July 2017, Tiny Rebel opened a brand new brewery in Rogerstone, which also includes a bar, restaurant and conference venue for private functions. The directors believe this offers something unique to the UK, where everything is done on site from start to finish. Their brewery bar has also created an important hub for the local community.
Director and co-founder, Brad Cummings, told us:
We think work is over-rated. We get much more done and to a much higher standard when we focus on what's fun, rather than what will be most successful.

We've never done market research and we don't think about gaps in markets. All we do is brew for us – create the products we wished existed. We like to disrupt the status quo and explore what's beyond limitations simply because it's fun, and our customers are able to join in that fun too.
Brewers with a social purpose
The local community and culture is an important factor for craft breweries. The independent brewing industry has done much to support regional communities in Britain, particularly, in an era which has seen the closure of many village pubs.
It's not just about creating a profitable business.
According to a publication by the Society of Independent Brewers (SIBA), 84% of independent breweries support charities, with 21% supporting more than 5 charities. SIBA also report that in 2016, this sector created a staggering 900,000 jobs in the UK.
Many micro-breweries go even further, having a social purpose at the very heart of their business.
Toast Ale is a brewery based in London that uses surplus bread from bakeries and delis to brew their ale. The aim of the company is to tackle the global issue of food waste, until it eventually puts itself out of business. All its profits go to Feedback, a registered charity which aims to halve food waste by 2030.
Similarly, Cullercoats Brewery has raised over £30,000 in the last 5 years for the Royal National Lifeboat Institution, by donating 3 pence from every pint sold.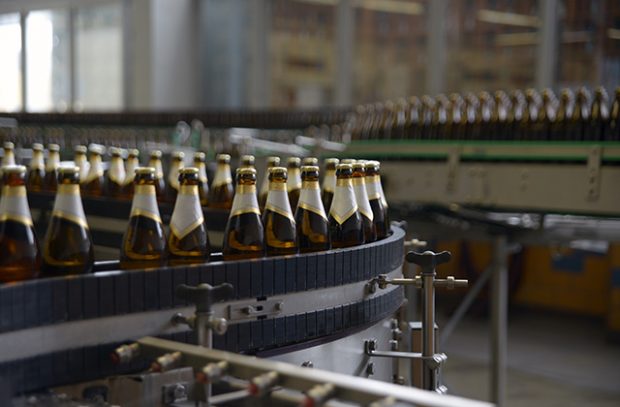 Some breweries have been intentionally set up as community interest companies (CICs). A CIC is a limited company with special additional features, created for those who want to run a business for community benefit.
Blues and Beer runs an annual music and beer festival, which contributes all proceeds to local organisations and charities. A case study from the CIC Regulator's office highlights the positive work this company does for the community.
Beer for Good is another CIC, which runs a licensed premises with a training arm for unemployed 18-30 year olds. It has become an important focal point for community information-sharing, and a place for local groups to meet.
Willingham Craft Beer is another example of a recently incorporated CIC, set up to run a village craft beer festival.
You can find more information about social enterprise and CICs on the CIC Regulator's website.
I'm off for a pint.
To keep in touch, sign up to email updates from this blog, or follow us on Twitter.