I joined Companies House in February 2016 as an IT development apprentice. I had a warm welcome to the department, the analysis and test teams, but instantly felt a part of the scrum team.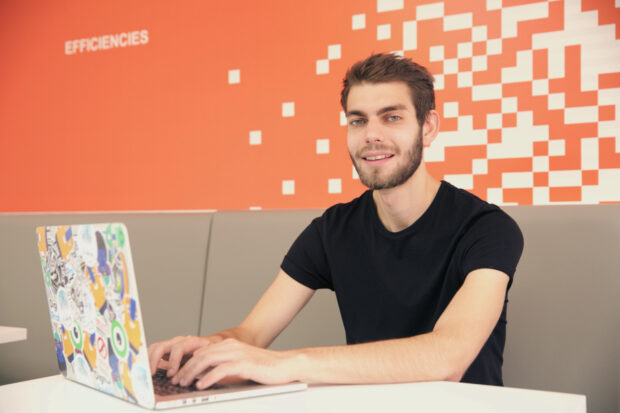 How we work
As an organisation, we use agile principles and scrum methodology to deliver our services. Rather than working in a sequential process – gathering requirements, planning, designing, building and testing – you do all these things at the same time. By using this approach, you continuously learn and make improvements to build a service that meets user needs. It encourages quick and flexible responses to change.
Scrum teams form a part of this way of working. Small multi-disciplinary teams work collaboratively in fortnightly periods, aiming to achieve our agreed goals for that time frame. This helps to deliver work in small batches, contributing to the organisation's wider work and service development.
As I was new to working in this environment, and with the systems, my colleagues were really supportive. They were happy to put up with me constantly asking questions in order help my understanding and learning of the roles and the development process. I was also encouraged to take part in meetings and other practices such as stand-ups and retrospectives.
Developing my skills and career
I spent one and a half years as an apprentice within the analysis and test teams, and even a short time developing. I learned about each of the roles and contributed to tasks. I was always given lots of opportunity to contribute to the work within the scrum teams and experience different types of work.
The tasks I became responsible for were made easier because of the training and support I got from my team and colleagues. They were always very helpful in guiding me in the right direction.
I really enjoyed working as an apprentice and felt I had a lot of freedom to learn and contribute to my team's work. Because of this experience, I was lucky enough to be given the opportunity to work as a systems analyst on one of our scrums and provide analysis on the recently launched Streamline Company Registration Service. I was able to elicit requirements and analyse them for the developers to code into the system.
In order to help achieve this I had to learn all about web incorporations and liaise with colleagues across the organisation to help identify and validate business requirements. As this project was run jointly with HMRC, it also gave me the opportunity to work across government.
What it's like to work here
In work, the atmosphere on the section is fun and positive. Everyone is always friendly and willing to help others. There's also always lots of collaboration happening.
The organisation offers lots of benefits such as the opportunity to use mobile working and flexible working hours between 6am and 8pm. There's also free parking, subsidised gym and canteen facilities, and plenty more. There's always an opportunity to get involved in sports such as football, with matches played during Thursday lunchtimes. There's also table tennis and pool in the games room.
Companies House has embarked on a transformation programme which will change the way we work and the way we offer services to our customers. As part of this, there'll be more digital jobs becoming available over the next few months.
Overall, I'm very happy working here. I've had the chance to work on some interesting projects and collaborate with some very knowledgeable and interesting people. I'd fully recommend working here to anyone.