After feeling a bit stuck in my job at the time and jumping from one admin role to another, I decided it might be time to change tack if I wanted to pursue a career. 
I didn't know what I wanted to do exactly, but I was sure my film degree wouldn't help me. I found myself flicking through job adverts like it was JustEat – either I didn't fancy anything or I was out of the delivery area.
But then I saw an advert for a digital apprenticeship role at Companies House on the Civil Service Jobs website. I assumed it would only be for recent graduates but after a bit of research, I found out almost everyone is eligible to apply. So I decided there was no harm in submitting an application.
The thought of trying out different roles before committing to a job really appealed to me. And even if there wasn't a permanent position for me at the end, at least I would have an NVQ, new skills and work experience to show for my time.
The recruitment process
Applying for the apprenticeship was fairly straightforward. The online application service on Civil Service Jobs clearly explained the relevant competencies I needed to demonstrate in my application form.
Once this was submitted, I was immediately invited to take a numeracy test online. You're not shown your results, but you can see how you compare to other candidates. I spent 2 weeks refreshing that page until I was invited to interview.
At the interview, I was asked to prepare and deliver a presentation on rolling out Windows 10 to the business. Then I was asked questions on the competencies. While the recruitment process was similar to other jobs I'd applied for, I found the environment to be more relaxed and the questions related well to the application form.
After what felt like waiting forever, I was emailed with the good news that I was offered one of 2 positions and asked to begin the pre-employment checks. 
Juggling work and assignments
There were 4 roles for me to experience within the product team: interaction designer, performance analyst, product manager and user researcher.
Rather than dedicate 6 months to each role, my manager and I worked out a system where I would follow several projects so I could naturally see how to work in an agile way and where each role fits in.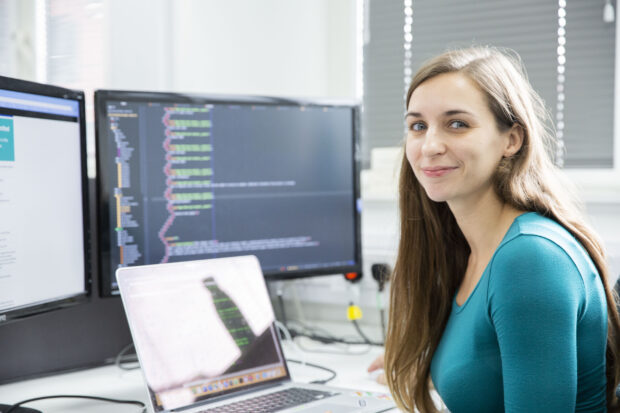 My daily work activities were not just attending meetings and answering emails like I'd been used to. And I was able to do some practical and job-specific tasks. Some of my favourites included:
o

bserv

ing and helping to 

run some user testing of prototypes in-house in Bristol and London

 

creating

reports using data from the operations teams and 

present

ing

 the finding

s

 to managers

 

c

reat

ing

 and sen

ding 

surveys, and conduct

ing

 interviews with respondents

 

helping to

 translate one of Companies House's biggest services

 

building

 a prototype for an extensions service using newly learn

ed

 coding skills (thanks to the ever-patient Ollie Williams)

 

a

ttend

ing

 a service assessment to see the extensions service pass and move on to private beta
I was assigned a tutor for the qualification and met with him once a month, though he was always on hand to answer my trivial questions. I was set tasks each month to work towards my modules. There was also one exam to sit which I felt well prepared for.
I would recommend befriending the other apprentice to help you stay on track, and for a bit of friendly competition to see who can complete their modules first.
Job opportunities
after the apprenticeship
My contract with Companies House was fixed term for 2 years and I was given 18 months to complete my NVQ qualification with ACT.
While I was not guaranteed a job at the end, I could apply for positions that came up. I could also carry the qualification over to the new position with the manager's approval. The experience of roles I took on within the product team and Companies House put me in an advantageous position when it came to looking at civil service job adverts.
After 6 months in the apprenticeship, Companies House began a recruitment drive in the digital team. I applied to gain experience and show that I was serious about becoming an interaction designer. It seems the team had trained me right and couldn't get enough of me - because I got the job! I'll now spend my days designing, building and testing prototypes of online services for the teams to build.
Within 9 months of starting the apprenticeship I had completed the qualification, had a permanent position as a mid-level interaction designer and, importantly, a taste for curry Thursdays in the canteen.
Listen to our Meet the Team podcast to hear more about Oceanne's job as an interaction designer.