Wales has a culture in which music is deeply interwoven and is historically referred to as the 'Land of the Song'.
This relationship with music remains just as strong today, with Cardiff recently being declared a 'Music City'. It's becoming one of the first cities in the world to establish an official strategy for cultivating its music ecosystem through urban development.
Increasingly, Welsh language music is also seeing broader recognition, both in Wales and around the world. In 2018, 'Gwenwyn' by rock duo Alffa, became the first Welsh language song to surpass a million plays on Spotify. And 'Y Dydd Olaf', the 2014 critically-acclaimed Welsh language record by Gwenno, recently received the Welsh Music Prize.
Welsh Language Music Day, created by presenter and broadcaster Huw Stephens in 2013, celebrates Welsh musicians. As well as the annual events in Cardiff, events relating to Welsh Language Music Day happen in locations all over the globe.
Welsh music companies
Wales is currently home to an assortment of music companies, with Cardiff being a particular hotspot.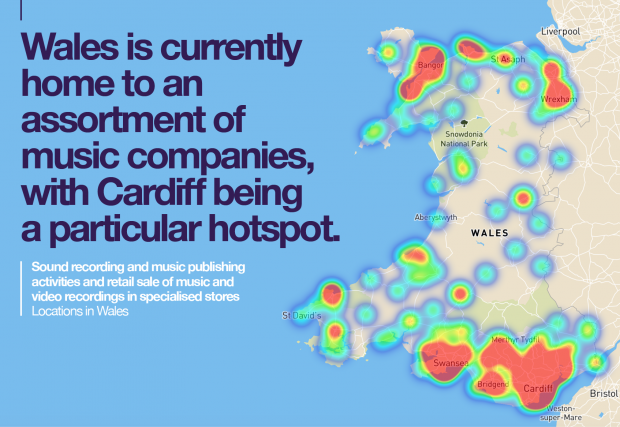 This is mirrored by the number of companies incorporated as 'retail sale of music and video recordings in specialised stores', of which one was incorporated in 2009, compared to 4 in 2017 and 7 in both 2018 and 2019.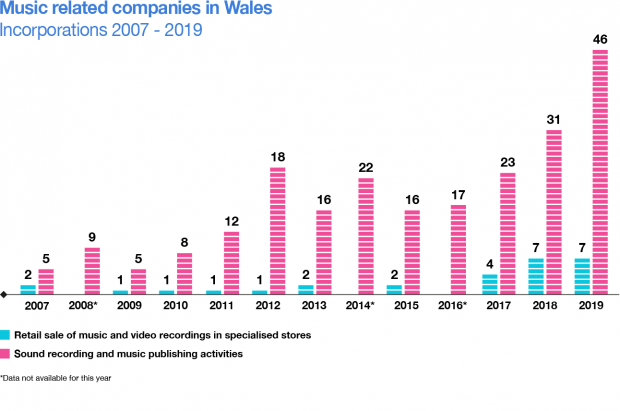 Although there have unfortunately been some victims of dissolution, such as Cardiff's Catapult 100% Vinyl, which was in business for 17 years (the closure of which attracted an outpouring of tributes from customers), the number of Welsh music companies overall that have dissolved in the same period is relatively low.
Of retail music companies, for instance, only 7 have been dissolved in Wales in the past six years, compared to 20 that have been created in the same period.
The same cannot be said for other parts of the UK. There has been a big jump in dissolutions in England in 2019 - from 54 in 2018 to 106 in 2019.
Spillers Records
Spillers Records, located in Morgan Quarter, Cardiff, first opened its doors in Queens Arcade in 1894, making it the oldest record shop in the world. It initially specialised in phonographs, wax phonograph cylinders and shellacphonograph discs.
The long life of Spillers has, however, not been without trouble. In 2006, the future of the iconic store was made uncertain by rising rent costs. But thanks, in part, to a local campaign which attracted support from global artists such as Bob Dylan, Bruce Springsteen, Justin Timberlake, Beyonce and the Manic Street Preachers, the store was saved.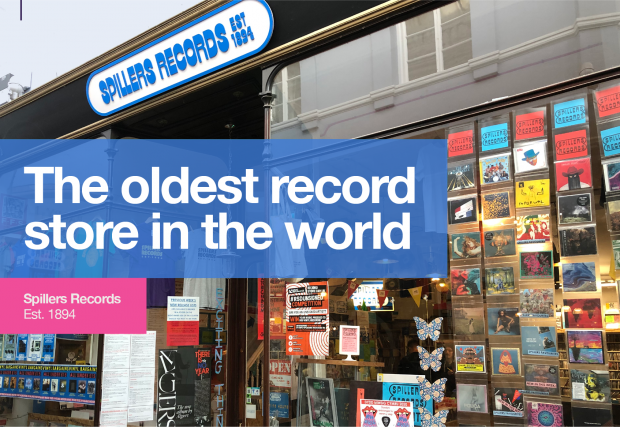 Sain Records
Founded in Cardiff in 1969, Sain Records has played a key role in the revival of Welsh folk music, and continues to produce and promote Welsh language music across a range of genres. Sain Records have also developed Apton, a streaming service dedicated to music from Welsh labels.
We spoke to Dafydd Roberts, Chief Executive of Sain Records, who commented on the vibrancy of music in Wales and the unique opportunities for Welsh music presented by the availability of music online.
There has always been a very vibrant scene in Wales, but the availability of Welsh music, especially Welsh language music, through streaming platforms has increased its profile recently.
Roberts commented on the uniqueness of the Welsh language music scene in its basis in Welsh culture.
The Welsh language scene is very different to the non Welsh speaking music scene, especially in the indie/pop/rock genre. The non Welsh speaking scene tends to emulate the Anglo-American mainstream, whilst the Welsh language indie/rock scene is still influenced by Welsh culture to some extent – some bands and music more than others.

The more folk/singer songwriters or 'World Music' orientated bands draw more heavily on Welsh culture. But there's a constant crossing of borders between genres, and it's quite common to see famous rock band members competing in Eisteddfod choir or 'cerdd dant' competitions.
Although it can be challenging for Welsh musicians to get ahead when contending with so many other artists, the uniqueness of Welsh music and an increasing interest in world music on a global scale, particularly from young people, gives it a potential advantage.
It's always more difficult for Welsh indie/rock bands to break through as they're competing against one of the strongest scenes in the world in London. It's much easier to export Welsh music that is based on Welsh culture as it has a USP, and there's an increasing global interest in 'world music'.
Companies such as Sain Records continue to play an important role in celebrating Welsh culture - an invaluable part of the culture of both the UK and the rest of the world.