There's no silver bullet when it comes to creating a truly diverse and inclusive organisation. It's about doing a wide range of things in unison. But if there's one thread that runs through everything we do, it's storytelling.
Unsurprisingly, as the UK's biggest visual art gallery, we often do this through the programmes we develop and the artists we work with.
For example, at the moment we're showing pieces by 2 very high-profile artists that tell incredibly compelling tales. The first is Andy Warhol who lived a complicated life as a gay man, long before it was culturally mainstream. The second is South African, Zanele Muholi, whose work focuses on race, gender, activism and sexuality.
Through their art, we can bring the LGBTQ+ community to the fore. They show visitors and staff how their experiences have shaped who they are and the pieces they've produced.
It also creates a safe space for queer people, where they can experience art that reflects their lives. We complement this by running inclusive programmes and initiatives.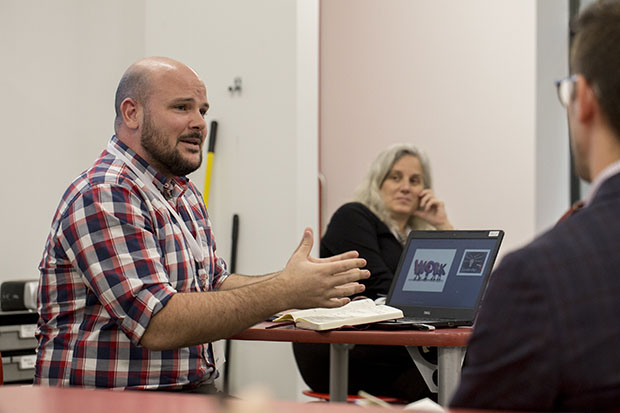 Our initiatives
Queer and Now
We first ran Queer and Now in 2017 and it's back for a third time in 2020 to celebrate the powerful role of LGBTQ+ arts and culture in today's society.
Queer Walk
We've also developed a Queer Walk through British Art. It offers the chance to see works throughout Tate Britain's free displays as chosen by:
artists
curators
cultural producers and filmmakers from the UK's LGBTQ+ creative communities
Tate's own vibrant LGBTQ+ staff network
young people exploring their gender and sexual identities
It aims to allow people to look at the art through the eyes of queer people.
These initiatives are all great examples of storytelling. Whether told visually, through words or otherwise, each is a person's own tale that we're helping to tell, to bring people together and foster an open and diverse community. We do it across all our galleries, on social media and our websites.
Intranet
But it does not end there. We also publish the stories of our LGBTQ+ staff on our intranet, giving them a voice and allowing them to explain various aspects of their lives and work.
The idea being that we're not just saying "the Tate is open to all" but that everyone can be represented by Tate.
Changing policies and culture
A huge amount of work has been done behind the scenes to make sure Tate is an inclusive place to work. We've developed policies and our culture, from the language we use in documents, to encouraging staff to wear badges showing their preferred pronoun. We also suggest displaying their preferred pronoun in their email signatures.
Staff networks
We have a LGBTQ+ staff network that works to make sure we grow the community and put queer people at the heart of what we do.
There are 5 people on the steering committee. They receive funding to commission external thought leaders to come into the organisation. They also challenge the organisation and ask questions that need to be asked.
Our achievements
All of this has helped to place us at 55 in the Stonewall top 100 employers list in 2019, as measured by its Workplace Equality Index.
We're the only visual gallery to have achieved this - an accolade we're incredibly proud of. In fact, when I started working at Tate we set ourselves this strategic goal.  We've improved our position from 149 to 55.
But we do not just think about the data. We think about the experiences people have at Tate, and how LGBTQ+ people feel when they visit or work with us. And how straight people feel about having experienced art through the eyes of another community. Because it's about all of us, and how we can come together.
This is vitally important for Tate. We're a publicly funded organisation and have a responsibility – and desire – to represent everyone. We want to offer a safe space for people to see and listen to LGBTQ+ stories. And we want our people to feel part of an organisation that's constantly pushing the boundaries.
As we celebrate LGBT+ History Month, we're proud of the work we've done for the community.  And the work the community does for, and with, us. It's a powerful story and one we're keen to share.
Companies House is committed to supporting equality and diversity both within the organisation and the wider UK business community. Our diversity and inclusion campaign celebrates diversity in business and makes sure people from a range of groups are encouraged to bring their whole selves to work. 
Keep up to date with the latest stories from the campaign on our blog and social media channels.