Coming out as a gay Indian man was a challenge. South Asian communities tend to have conservative values rooted in family, tradition and heteronormativity, with an expectation that you'll get married and have children.
I had to prepare for my moment carefully. It fuelled my career progression so that I could become financially independent before I said anything to my family, just in case the worst happened. My experience was different to those of my white LGBTQ+ friends.
Being gay and Indian means you worry about homophobia within the Indian community and racism within the LGBTQ+ community. Both of which I've experienced to varying degrees. And I know I'm not the only one.
There are nearly 800,000 gay Asian or British Asian people in the UK. That's about 1.2% of the whole population. And we haven't factored in people of other races or ethnic identities. There are many of us, likely to be employees where many of you work, especially in larger businesses.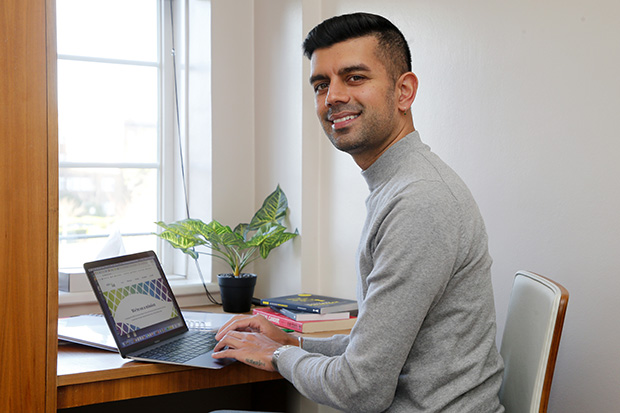 Not every LGBTQ+ person is the same
It's called intersectionality. Where 2 or more aspects of a person's identity overlap (in my case, being Indian and gay) to create specific disadvantages.
Yet it's easy to overlook these nuances, and LGBTQ+ people tend to be presented in the same light. Predominantly defined by their sexuality. But we're all a sum of many things - it's what makes life interesting! It's just some of us are made up of things that would be described as minority and/or marginalised identities, which means we have unique challenges to overcome.
Having personal experience of this, I'm passionate about helping organisations challenge their bias and develop their culture, policies and practices to support people like me. That is, an LGBTQ+ person, a person of colour, or someone who is both.
My work in practice
I founded colourfull in late 2018, having worked in HR and internal communications. Unsurprisingly, this is the work where I can offer most value.
I work with all types of organisations, particularly creative and tech companies. Many have great intentions, but require support in pulling together a cohesive approach to inclusion. Others are starting with a blank sheet of paper and want some help in shaping their work. I love the variety of working with different businesses, knowing that the work I do can make a real difference to people.
When I start working with businesses, there are a few important questions I ask to help set up our work effectively.
The first question I ask is, why do they care, and why now? This helps to understand the motivation behind the work. And I find out it aligns with my values.
The second question is, what does success look like and how can I help them get there?
And finally I find out the client's willingness to change. The work I do requires people to question their beliefs and what they assume to be true, so embracing change is vital to the work being successful.
Then we start the real work.
My approach involves the use of data and storytelling. I love data - I'm a geek at heart - and this can take various forms including both quantitative and qualitative sources. The key for me is to look at this data through an intersectional lens, to pinpoint the specific areas where an organisation can become more inclusive. It also focuses the mind on what problem to solve, and whether it's aligned to the original objectives.
The solutions can vary, such as making sure policies are in place, but I prefer to be more creative and approach it through strengthening culture.  
The power of storytelling
Storytelling is powerful in connecting people together.  
With a previous client, we had an issue where underrepresented groups of people felt disconnected from leadership. So we invited each member of the leadership team to share a story on a monthly basis at an open event. The leadership team shared stories on topics such as how they progressed in their career and when they felt they'd been left out as opposed to invited in.
It was meant to be candid, emotive and authentic. And the response was amazing. Connecting to people's emotions and shared humanity is the key to making inclusion work.  
The theory behind this is simple. If someone we're close to or care for has an identity that is marginalised, we're more likely to be allies and adopt positive behaviours and actions to support them. For example, if you have a gay child, you're more likely to take an interest in, understand and empathise with the challenges they may face than if you do not have a gay child.  
It's the same in a business setting. If you're able to develop connections at work with people who're different to you, you're more likely to shift attitudes and create positive change. As well as culture!
Something we can all do
Not all businesses, especially smaller ones, have the time and resources to invest in such rigour. But there are always things you can do to build your culture as you grow. With that in mind, there's one definite way firms can begin their progress to inclusion.   
Be curious. Be curious of people whose identities are different to yours, ask respectful questions, genuinely listen and seek to understand their experience of the world. Find ways to bring people together to hear these unique stories in your organisation. It's a great way to build an inclusive culture.
By truly taking the time to get to know others, it'll lead to compassion, empathy and ultimately, acceptance.   
And who would not want that? 
Companies House is committed to supporting equality and diversity both within the organisation and the wider UK business community. Our diversity and inclusion campaign celebrates diversity in business and makes sure people from a range of groups are encouraged to bring their whole selves to work. 
Keep up to date with the latest stories from the campaign on our blog and social media channels.