Construction is in my blood. My dad was an electrician and my uncle a property developer. I was therefore surrounded by builders, architects and designers from a very early age.
My first experience of a site was at 2 years old. My dad was mending the roof. As he worked, he noticed something out the corner of his eye: me.
I had clambered up the scaffolding to come and lend a hand. Not surprisingly, he grabbed me and down we came. But this set the scene for me. I was on my way to a career in what had traditionally been a man's world. I studied a BTEC in Construction and then architecture at the University of Bath. I had varied work placements, but loved my time at Stride Treglown. I kept going back in holidays and started full-time in 2002.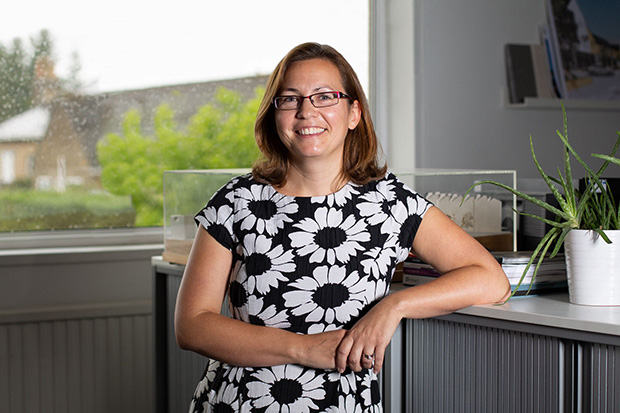 A changing industry
By then, the industry had already changed quite a bit. No one questioned me or what I was doing on the basis of being a woman.
But there were signs that the construction industry was still not quite ready to fully accept women.
I remember many years ago as a young project architect turning up to site meetings, sitting in rooms with page 3 calendars on the walls. If there was sexism, it was unsaid and unconscious. But it persisted, perhaps because it's just how everyone had always behaved. There were cultural norms that were hard to break.
These cultural challenges have been the biggest issue for women rising up through the industry. We have a long working-hours culture which is difficult to sustain when balancing a personal life with work. Both relevant for male and females in the industry.
Females should not have to act like an alpha male and change our behaviour to succeed. Women must be able to work and lead in our own way. It's proven that diversity is key to businesses being more successful.
Many females do leave and there is still a large drop off at mid to senior level. This undoes all the great work done by universities, which now generally have a 50/50 split entry.
I stuck at it, and having worked on some huge projects such as Heathrow, Sainsbury's and UK Defence, I decided to move into a business development role. This has ultimately seen my appointment to the board which I'm incredibly proud of.
Support for everyone
In this capacity – and throughout my whole career – I've worked hard to make sure women get the support they need. Stride Treglown has introduced agile and flexible working guidance. This can help with a better balance across the entire workforce not just for women.
Our recruitment panels are mixed and when promotions are considered, we make sure there's gender parity in the decision making process. This is vital in breaking the cycle of men unconsciously hiring people that reflect themselves. We also have a diversity and inclusion group in the office and abide by the Bristol Equality Charter and Women in Business Charter.
While there's no magic wand to make sure there's equality in the workplace, these are all important steps that will pave the way for even more progress. It's also down to women themselves to step up and not accept the status quo.
We need to take chances. Always try something new and be brave. Even if you're the first to do something, you should go for it.
You also need to build a support network inside and outside the office. Create contacts in the industry, foster relationships with clients, and make sure there are people around you who have your back. Take small steps. Talk to people – you'll be surprised how much support this can generate and nurture.
It's also important to look outside your firm and sector to find ways to support other women. For example, I chaired Women in Property for the South West region between 2017 and 2018. I will be stepping up to be the vice national chair this year and national chair in 2021. It's daunting, but then all the most exciting things are.
I'll also be heading out to Malawi this summer to support and learn from women in business there. It's hugely important to get a new perspective on the challenges we face and solutions we find. This helps us to remember that we're not alone as women treading a new path in the world. This is why I'm so keen to celebrate International Women's Day this year, and every year.
And it all started with me as a 2 year old clambering up the scaffolding to help my dad. He's got a lot to answer for. And it's important to remember that he is, well, a he. A man I love and respect, who set me on a path to being at the top of my game, in an industry I love.
Let's not forget that we need men to come on this journey with us.
To celebrate International Women's Day, we're showcasing and promoting organisations across the UK that are championing women in business and leadership.
Companies House is committed to supporting equality and diversity both within the organisation and the wider UK business community. Our diversity and inclusion campaign celebrates diversity in business and ensures people from a range of groups are encouraged to bring their whole selves to work. 
Keep up to date with the latest stories from the campaign on our blog and social media channels.