If someone had told the 18 year old me I'd be running a technology company specialising in data analysis one day, I'd have laughed.  
I've always worked in the charity sector, often championing women's issues. It was important work and I look back on it fondly.  
But something always bugged me about it. We were always on the cusp of making a difference to women in the world of work, but often found it hard to engage with businesses – the very organisations that can achieve real transformation.  
This is because pressure from the third sector can only go so far. What you really need, to make a CEO take note, is a business case for change. They only ever ask one question: will it make my organisation better and improve my profitability?   
At the time we could not answer this with any degree of certainty. We needed to be able to communicate answers to these questions.  
Not communicating equality in a language that business understands is one of the reasons it'll take over 200 years to gain gender parity, according to the World Economic Forum.   
It seemed the only way to make a serious impact was to offer hard evidence. Numbers and data accelerate change. This is why I founded Gapsquare 4 years ago. We're aiming to reduce 200 years to 20 with the power of data analysis.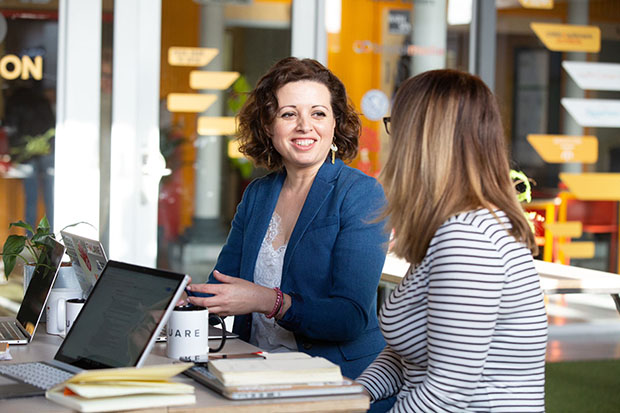 How data drives change
Gapsquare allows businesses to use their payroll and HR information to see where the issues really lie.  
If anyone in a firm believes the pay gap is a myth, our software will provide irrefutable evidence. It also moves an emotional and political debate to one that's grounded in fact. It generates gender pay gap reports, ethnicity pay analysis, equal pay audits and much more at a touch of a button. 
Our clients include giants such as Taylor Wessing and Babcock. They have thousands of employees and often need insight to understand the huge wealth of data they have across their operations.  
We also work with smaller businesses who want to understand how to structure their pay from the outset, so they can build an equal structure from day one.   
We can also uncover trends in:
recruitment and hiring

staff retention

career progression

pay

whether people returning to the workforce are affected by changes in salary 

 
The issues that come up tend to be the same across all organisations. These include disparities between older and newer recruits who may have different packages, and women being clustered in lower-grade occupations.   
The result is that leaders can spot trends, take action, change behaviours and build a more equitable pay structure. This helps create a more effective business and can actually save them cash in the long-term. 
Building a business
But getting to this stage has not been easy. While Gapsquare is going from strength to strength, female technology leaders can face a different set of challenges. Just 20% of the workforce in our sector is female. The number in leadership is far fewer.   
The toughest part has been gaining funding. The data shows very little money goes to female-led tech firms and we've been no exception, growing through sales instead.  
I was once pitching to a room of 50 people – only one was a woman. After the session, I was told by a man attending the event that next time I should wear a trouser suit, rather than a dress. There was also the time I was mistaken for a waitress at an event. I could go on.  
We're keen to make sure our own business never falls for these cheap gender stereotypes and biases. For example, we recruit without CVs, using tech platforms to ask people questions without disclosing their names, gender or ethnicity. We choose shortlists from those with the best answers only, nothing else.   
While this is just a small step, we're proud to be doing all we can to make sure women are equal in the workplace – for our clients and for ourselves.   
Today, if I could meet my 18 year old self, I'd tell her that being the CEO of a technology and data company is the coolest thing in the world. And perhaps the most powerful way there is to solve the gender pay gap.   
To celebrate International Women's Day, we're showcasing and promoting organisations across the UK that are championing women in business and leadership.
Companies House is committed to supporting equality and diversity both within the organisation and the wider UK business community. Our diversity and inclusion campaign celebrates diversity in business and ensures people from a range of groups are encouraged to bring their whole selves to work. 
Keep up to date with the latest stories from the campaign on our blog and social media channels.