I'm delighted to be launching our strategy for 2020-25 today. This strategy sets out our ambitious vision for the next 5 years and demonstrates how we'll achieve our purpose of driving confidence in the UK economy.
This strategy follows the publication of the government response to the corporate transparency and register reform consultation. The government response sets out a new direction and a substantially changing role for Companies House underpinned by legislative reform. Our new strategy describes how we will achieve this change in direction over the next 5 years.
Our story so far
Our previous strategy was published 3 years ago. Our operating environment and the challenges we face as an organisation and across government as a whole have changed significantly since then.
The role we already play in the UK economy is very clear. The data on our register is used to support millions of business decisions annually, and our data was searched more than 9 billion times last year. Also, the ease of incorporating a company means that the UK is already regarded as a great place to set up and run a business.
However, in recent years, concern has grown that the UK's corporate framework is open to misuse which sometimes leads to a lack of confidence in some of the data we hold. At the same time, advances in technology are changing the expectations of what we can and should deliver.
We are really keen to do more to meet these challenges. We want people and organisations to have more confidence in our data, and we want to play a leading role in preventing and tackling economic crime.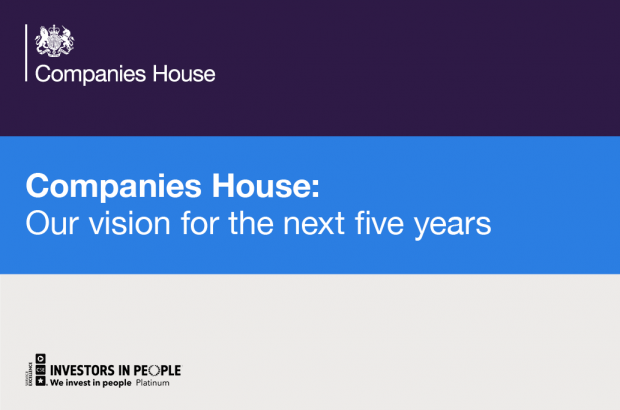 Our strategic goals
The 6 strategic goals detailed in our strategy summarise our key ambitions over the next 5 years:
Our registers and data inspire trust and confidence
We maximise the value of our registers to the UK economy
We combat economic crime through active use of analysis and intelligence
Our brilliant services give a great user experience
Our culture enables our brilliant people to flourish and drives high performance
We deliver value through efficient use of resources
Our aim to inspire trust and confidence in our data is front and centre of our strategy and the government response to the consultation, along with an increased focus on tackling economic crime. Of course, we also recognise the importance of balancing this increased focus with the ease of setting up and running a business in the UK. With this in mind, we'll make sure that we balance the need to collect more information with the ease of doing business, and the need for transparency while protecting personal data.
I'm passionate about making sure that colleagues have every opportunity to flourish at Companies House, and it was very important to me from the outset that one of our strategic goals focused on our amazing culture. The ambitions set out in this strategy present a great opportunity for our brilliant people to develop new skills and to get involved with the challenges of the next 5 years in all kinds of different ways.
We will absolutely make sure that our new systems and processes are the best they can be for both our customers and internal colleagues, and our work on supporting our customers during the coronavirus (COVID-19) outbreak has already demonstrated how we can work together quickly to make this happen.
We need legislative change to give us additional powers in many of the areas above before we can move forward. In other areas, key activities are already well underway. Our strategic goals are fully in line with the government's legislative reform agenda, and we are enthusiastic about delivering even more for our customers and stakeholders over the next 5 years and beyond.
Looking to the future
The forthcoming programme of legislative reform will go hand in hand with our ongoing transformation as an organisation and the fulfilment of our strategy, enabling us to fulfil our purpose in new and exciting ways.
We're on the cusp of major change, and we know there's much more we can do to respond to the expectations of our stakeholders and our own aspirations. Our new strategy and the government response to the corporate transparency and register reform consultation is the beginning of an exciting new journey.
We do not underestimate the scale of the challenge ahead of us, but we're confident that we've got the ambition, the skills and the motivation to achieve our purpose of driving confidence in the UK economy.