I'm a third year Business Management student at Lancaster University, and I'm visually impaired and dyslexic. Before joining Companies House as an intern, I was not proud nor confident disclosing my disability to an employer.
The recruitment process
After finishing several job applications, I was left feeling resigned and irritated. Each time I reached the question 'are you disabled?', I always ticked 'no'. This is because I do not feel disabled. Often it's the outside world which is 'disabling' me and creating invisible barriers that block me from performing at my best. I know I can do and achieve everything that I want, and I've crossed these 'barriers' many times before.
I've always known that employers should not discriminate job candidates due to their race, gender, age, health or belief. But subconsciously, I always said to myself:
Do not disclose it because nobody wants to make special adjustments or extra effort to employ you. There are other better candidates.
That's how the system, education, and culture has influenced my way of thinking and it's hard to change. It takes time, but I'm trying and I can see my progress.
I know and see the benefits of having a diverse workforce - having people from different cultures, different ages with different abilities. Everyone is like a puzzle. We're all different, but together we create a whole picture. Imagine doing a puzzle where every piece is the same shape - what a boring task that would be. No creativity, no challenge, no new ways of thinking.
I can say that the recruitment process at Companies House is fully inclusive of all physical and mental disabilities. As part of our commitment to a diverse and inclusive workforce, candidates are asked to provide an anonymous application that allows them to shine. When applying, you must remove all identifying personal information from your CV, personal statement, and application including your:
name
address
date of birth
dates of education
I thought to myself, that's how a recruitment process should look. Employers should not discourage you to disclose your health situation. They should push the motivation to bring your whole, brilliant self to work, ensuring the best working environment possible to increase performance.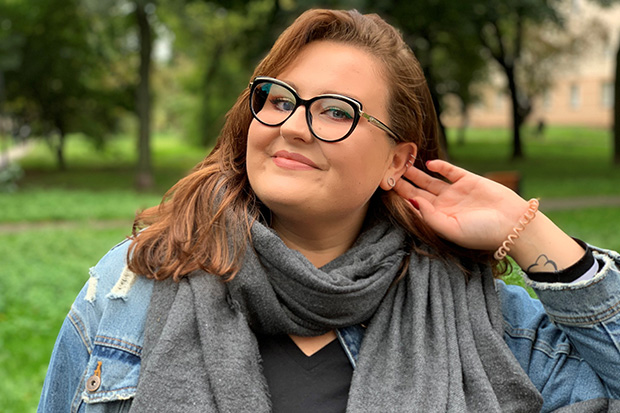 My journey at Companies House
I was offered an external communications intern position in April, but due to the coronavirus (COVID-19) outbreak, I thought I'd be saying goodbye to the opportunity.
I was so surprised and beyond happy when I got an email confirming my internship and the offer of working remotely. It not only meant that I could stop worrying about travelling to Cardiff and finding a new place to rent, but also that I had the necessary adjustments in place to work effectively from home.
But I still had some reservations.
This was my first professional working experience. I had never worked virtually and I had never participated in online meetings. Being Polish, I was the only 'foreigner' in my team and I was the youngest. But I now know working in Companies House was the best decision I could have made.
Over the last 3 months, I've developed both professionally and personally and I'm pleased that none of my concerns have turned out to be a real problem. I've received such great support and work opportunities in my new welcoming and enthusiastic team. My line manager has showed so much commitment to make my virtual journey a brilliant experience for me.
What surprised me about Companies House?
Due to the coronavirus pandemic, I decided to come back home to Poland in March. My laptop was shipped from the UK to Poland and on my first day it was delivered securely to my door.
As a visually impaired person, I benefit from small adjustments. I need:
regular, short breaks from looking at a screen
a good amount of sunlight
extended time for reading
At the start of my internship, the Companies House Health and Safety officer contacted me to discuss good practices to keep my productivity throughout the day, as well as avoiding eye strain.
The flexible working system at Companies House allows you to choose a working pattern suitable for you. You can start as early as 6am and finish as late as 8pm. For me, it meant I could start work early, in daylight, to avoid eye strain.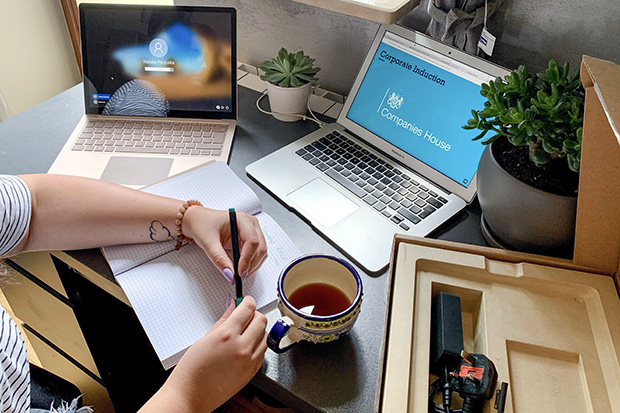 A positive surprise was the organisation's commitment to having a diverse workforce. Companies House is proud to be a disability confident employer which means that the organisation is always going the extra mile to make sure people with a disability get a fair chance.
The organisation strives to be more inclusive by offering a wide range of networks that support and understand the needs of underrepresented groups within Companies House. These include LGBTQ+, Ability, Carers', and Women's networks. They empower members to flourish at Companies House and are a safe space for sharing and discussion.
I joined the Ability network and connected with colleagues to share my worries and successes about working from home with a long-term health condition. The network meetings allowed me to bring my whole self to work and increased my confidence. I felt encouraged and comfortable sharing my experiences with others.
After finishing my internship at Companies House, I feel encouraged and more confident to disclose my disability in job applications. I hope more employers have the same approach as Companies House and see real humans in their employees rather than machines that work at top speed.
We've launched a new diversity and inclusion campaign which showcases Companies House's commitment to supporting equality and diversity both within the organisation and the wider UK business community.
To begin, the campaign will showcase our variety of staff networks which help us understand the needs of underrepresented groups in Companies House and encourage staff to bring their whole, brilliant selves to work.
Keep up to date with the latest stories from the campaign on our blog and social media channels.