Companies House aspires to be the best registry in the world, with brilliant people working on brilliant systems and delivering brilliant services. Our new corporate strategy highlights how we will continue to put people at the heart of everything we do, valuing their whole selves and creating an environment where they can flourish.
Culture transformation
Our transformation programme began 18 months before the coronavirus (COVID-19) crisis, where we started with a critical view of our long-standing culture. Over 600 colleagues participated in workshops giving feedback and providing their ideas for shaping our future.
It was a chance for people to be involved, discuss what we needed to change and, equally as important, want we wanted to hold onto. It was the start of our people-led change movement which set the scene for a shift in mindset.
We refreshed our values, - 'Working as one', 'Excellent behaviours and standards' and 'Every achievement counts' and discussed how it feels to be part of the organisation which shaped our behaviours and skills of the future of being adaptable, bold and curious (ABC).
Culture Change Community and people networks
Diversity and inclusion is a central aim of our strategy which gives confidence to everyone in being themselves. As momentum grew following the workshops, people-led networks began to form.
Colleagues became mental health advocates who helped drive our commitment to supporting mental health, while our employee-led Corporate Social Responsibility (CSR) programme developed defined links to our employee's passions.
Those initiatives that began with small nudges started to make a huge difference: people stepped forward to join a Culture Change Community. Over the last couple of years, we've grown and expanded the Culture Change Community, and collaborated with our people networks and United Engagement Group.
The power of our networks is their ability to provide a safe space for members to vent their worries and be heard. To be the voice of the people and to nurture a sense of inclusion and belonging.
When COVID-19 hit
We needed to react quickly to the pandemic, protecting the safety of colleagues while continuing to deliver exceptional customer services. Our incredible digital teams worked tirelessly to equip everybody with the technical tools they needed to do their jobs.
Our ability to respond swiftly provided proof of the value of work already underway and the culture we've nurtured.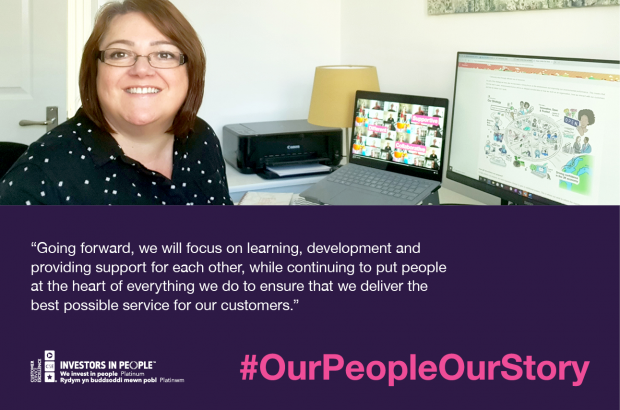 I've used the phrase 'COVID roller-coaster' on many occasions. In March, it felt as if we all strapped in to travel the initial climb together, not really knowing what twists and turns we would face.
The connection to our work family decreased to the size of a laptop screen, with family and pets becoming our workday companions. Although we've all been on the same ride, we've all experienced the ups and downs differently.
Having compassion for each other and understanding people's different situations has been critical, with our networks there to provide additional comfort and ways to look after our social wellbeing.
Since lockdown, the number of our people-led networks has increased. We now have a Bereavement Group, a Working Families Group and a FACE (Faith, Allyship, Culture & Ethnicity) network. Our Mental Health Network continues to play a significant role, with colleagues volunteering to receive additional support and training for emotional wellbeing.
We now have a total of 27 established Networks, with 40% total participation across the organisation. Supporting our networks is a key focus within our new 5-year strategy, to ensure everyone continues to feel that they can bring their whole selves to work.
So, what happens next?
We build on the many positives that we've seen, ensuring people continue to feel supported and connected. Our virtual activity will continue, having learnt that using digital platforms as part of a blended approach has benefited inclusivity and creativity.
Feedback from our colleagues working across our offices shows they feel more included with everyone meeting virtually. Being able to record meetings provides more flexibility for people to opt to listen in or watch at a time that suits them.
Another excellent achievement during lockdown was undergoing a virtual assessment to be accredited as Investors in People Platinum with the Health and Wellbeing award. This award reflected the commitment we made 3 years ago when we achieved Gold standard to keep improving and developing the way we work.
Going forward, we will focus on learning, development and providing support for each other, while continuing to put people at the heart of everything we do to ensure that we deliver the best possible service for our customers.
We recognise that we will not return to the way we worked prior to the pandemic. There is much discussion and collaboration ahead via our networks and Culture Change Community to understand what is important to our people. This will play a significant part in shaping our future look and feel, and holding on to compassion, community and kindness which are the things we cherish.