I'm Jo Carter, co-founder of The Satori Lab.
I recently met with the User Research team at Companies House to look at how they've developed their use of personas in their work. I was working on a project to create a set of tenant personas for United Welsh Housing Association along with Michelle Rose Innes. Michelle happened to create the very first set of personas at Companies House over 4 years ago.
We were curious to find out how things had gone since 2014. Had they languished at the bottom of a drawer somewhere, or did they use them to great effect… or something in between?
What a persona is and what it's for
A persona is a fictional character representing a group of people. They're based on research collected from interviews with real stakeholders (such as service users and employees). The persona will group together people with similar service needs and common behaviours. They're different from marketing profiles or segmentation, which usually classifies people according to age, ethnicity, gender or socio-economic status.
They help to convey the findings of user research and help people to empathise with different groups of stakeholders. They're a useful tool in many stages of the design process and can be used to help review existing services or innovate new ones.
What we discovered
The first set used by Companies House represented a corporate or generic set of personas. They were used across the whole organisation, covering all aspects of the service they provide.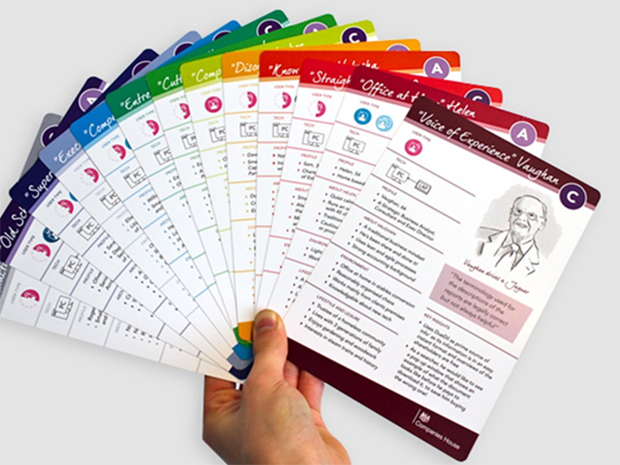 Over time, their experience using personas developed. Once people in the organisation got a taste of personas and the benefits of user research, they wanted more.
This is when they realised that they needed personas that focused on the transactional services that were being developed, not generic organisational personas.  They also needed to simplify the content of the personas.
Mark Hulett, Lead User Researcher at Companies House, explained that their personas had been refined over time. Different elements were tested, some discarded, and some had persisted throughout every iteration of the persona design.
Key elements that remained, included:
a short user profile
the user's goals and needs
user quotes
the working environment
devices used
the GDS digital inclusion scale
subject knowledge scale
Elements that the team found least useful for their service personas, included:
lifestyle information (like hobbies and marital status)
a miniature user journey map
various indexes and scales
long narratives about the user's interaction with the organisation
As things progressed over time, the information contained in the personas changed, flexing to the needs of those using the personas in their everyday work. They became more focused around a specific service area and streamlined in content. When creating a service for Community Interest Companies (CICs) to file their accounts online, they carried out further user research and produced personas relevant to that area of the business.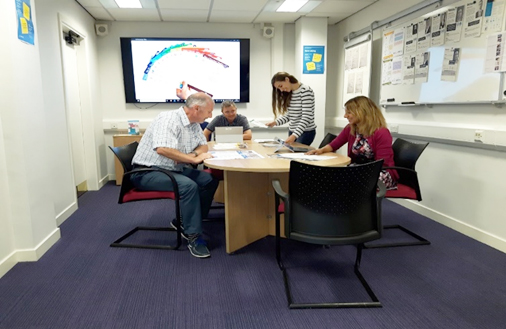 Learning: generic personas are a useful starting point
They're a good first stepping stone on a journey towards an organisation becoming more user-centred. Once the organisation gets used to the idea of using personas, they realise that they need to carry out further user research. This must be bespoke for the specific part of the service they're looking to improve. Gaining deeper, more specific insights and understanding of the people using their service.
The first set of personas used by Companies House were printed double-sided onto glossy cards. This didn't work too well for them because they often used them in workshops, when they needed to display them on whiteboards.
Mark Hulett said:
We have several projects in development at any one time. Personas are most useful when displayed, particularly for show and tells or at life cycle assessments.
Learning: single-sided documents or cards work best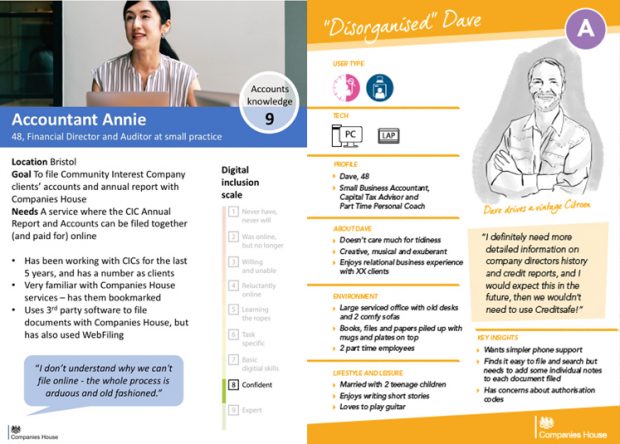 When Companies House created the first set of personas, they aimed for a set of 12. Realising that they'd missed out 4 important groups, they added more to create a total set of 16 personas.
Mark added:
When we first produced our organisational personas, several years ago, we were enjoying it so much we got carried away and produced far too many. We have taken a more moderate approach since and ensure our personas reflect distinct user goals and needs.
Learning: 16 is too many!
When Companies House began using the full persona set, they realised that their 16 original personas fitted into fewer categories, and were most usefully focused around the persona's digital capability and service knowledge.
Before Companies House started this user research, they'd made some inaccurate assumptions about peoples' behaviour. For example, they'd assumed that people broke away from using the digital service because of poor digital skills.
They realised from the user research that, often, people's low subject matter understanding led to them getting stuck and seeking help. Following the user research, they were able to focus their efforts more effectively, and worked hard to improve the content and user interface to explain the subject matter content. In turn, this helped to increase take up of their digital service.
Companies House found it useful to consider the persona set in relation to 2 of the most important variables which impact on the way that people interact with the service. For them, this was subject knowledge – like accountancy and digital skills.
For other organisations taking this approach, the 2 variables will inevitably be different. But, there are few businesses where 'digital' is not one of the main factors influencing how users interact with the service.
Companies House plotted their interview data around these 2 factors, which helped them to identify 9 personas.
Mark said:
Our user research shows that our users tend towards the upper part of the digital inclusion scale. We found some users are less confident when it came to subject specific knowledge.

We now think about our users from both perspectives and this has helped us improve the content on our digital services.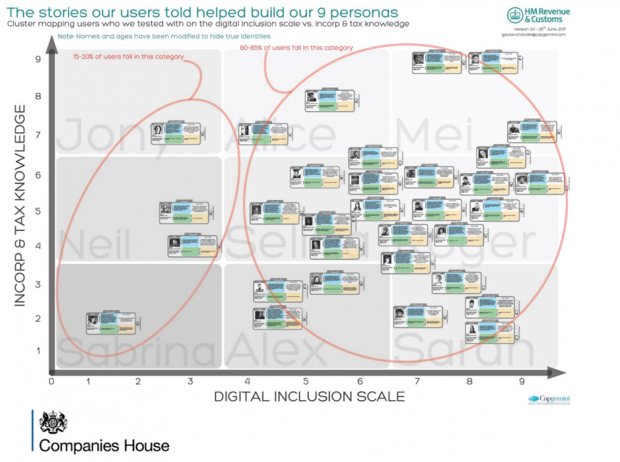 In part 2, we'll look at imagery and creating personas using presentation software – and I'll also share our template.
To keep in touch, sign up to email updates from this blog, or follow us on Twitter.