I'm Jo Carter, co-founder of The Satori Lab.
Following part 1 of my blog, I'll explain how Companies House has worked with the Satori Lab to develop their use of personas in their research.
At the time of our visit to Companies House, we were working with a housing association and took a slightly different approach when creating personas. We gave some thought about what might influence the way a user interacts with the housing association and then tagged each set of interview notes according to what they'd said.
Were they struggling with money versus doing fine (or somewhere in between)? Were they socially connected in their local neighbourhood versus isolated? This helped us to notice patterns and then to cluster the data, which went on to form the personas.
The type of content useful to the housing association compared with Companies House is very different. The personas we created for the housing association focussed much more on the persona's home life. Whereas, the Companies House personas focused on their work-life.
There's no 'one size fits all'
The needs of the organisation together with an understanding of how they will use the personas should be at the heart of the design for the personas.
The meeting with Companies House also made us all reflect more generally on the information that you include or exclude from a persona. When you convey a lot of information in a restricted space, you need to be careful with what you select to include or exclude.
I keep asking myself – 'how does this information impact on the way that the persona behaves, particularly in relation to the client's service?' If information, such as the personas gender, age or ethnicity doesn't impact on the way they interact with a service, it doesn't need mentioning. Having said that, if you're going to use images on the persona, then all these things will automatically be conveyed.
Lead User Researcher at Companies House, Mark Hulett, explained:
We have iterated the content of the personas over time. We have added and removed content and continue to refine the persona design to meet each project's needs.
What information is most useful to include on a persona?
Think back to basics – what's the purpose of personas and the importance of the different elements contained within?
The shared experience made us think more deeply about the images used on the personas.  The first set of personas used by Companies House used hand drawn images to represent each persona. They later turned to using stock photographs. We thought that the stock images looked a bit too 'polished'.
Some of the later images included their context, which we agreed were useful in scene setting. For example, the disorganised business owner with poor IT skills might be surrounded by piles of paperwork.
Mark Hulett said:
At the workshop there was a lot of discussion about the images we used, how they had changed and why. I've started give more thought about the images we select and the messages they are sending. Jo mentioned gender neutral images for the personas, something we had not considered before.
Images used to represent the persona
Using photographs of real people somehow brings the persona to life and makes it easier to empathise with the character. But, whoever uses the persona will have their own biases and will inevitably pass judgement about the persona based entirely on the image we choose to use.
It's also difficult to find suitable stock images to match the persona – they're often rather 'polished' and unrealistic. It's also important to represent ethnic diversity in the images used.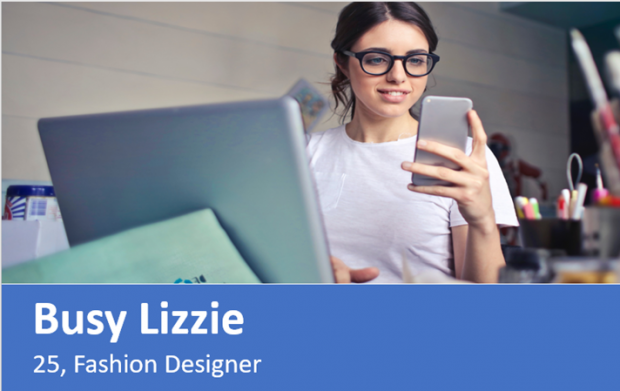 The persona used in the housing association project, formed part of their digital transformation agenda and so reference to the digital capability of the persona was particularly important to them. Indeed, this is the most important variable which influences how someone engages with your service.
We found that reference to the Government Digital Service Digital Inclusion Scale was useful to grade personas – providing more depth than other ways of presenting this information.
GDS Digital Inclusion Scale is a useful way to think about and present digital capability
Companies House use PowerPoint to design their own personas. This allows the user researchers to edit the content of their own files. Also, the software for creating slides is useful for creating personas. It offers more flexibility and added design options compared to a standard word processing package.
Companies House saves them in MS SharePoint, which means that they're accessible to the whole organisation and version controlled.
You don't need a fancy design package to create great looking personas
Using slides software (like PowerPoint or Google Slides) reduces the barriers to creating additional, or amending existing personas as required – and they should be re-visited at least every 12 months.
Companies House needs to prove they've created personas based on research with real users to pass the GDS service assessment. This forces them to engage regularly with real users.
Hold peer reviews
Review your personas regularly or engage in peer review to make sure your personas are the best they can be and embrace new ways of working.
Companies House have their personas on display in several areas of the office. These include the user research lab (as you'd expect), but also in the scrum areas of the Development team. This is because they realise the importance of everyone thinking about who they're building these services for. This reinforces the fact that user research/experience is a team sport!
Mark from Companies House very generously shared their story and afterwards shared the template they use to create their personas. We used the template, added to it and amended it, and then shared our learning with Companies House, and now here on this blog. Hopefully, making things better for everyone.
Share your things, it makes them better
I fundamentally believe in openness, yet to see the benefits of an open mindset in action was, well, just nice!
With a view to continuing this, here's a link to the template we created from our learning and our experience on this project. This template has references to housing-related matters, as it was used with a housing association client. If you want to use the template we created, you can open the file and make a copy. If you have any feedback to make the template better, please leave comments in the file.
This meeting would never have happened if it wasn't for the OneTeamGov network. Thanks to Amy Harcombe and the rest of the Cardiff network. And thanks to James Francis, Senior UX Designer at Companies House, for creating the original persona templates. And Mark Hulett, Lead User Researcher at Companies House, for sharing their research and history with personas.
Thanks also to Y Lab, who put on the Innovate to Save events at which this conversation started. And finally, thanks to Cerian Houston Jones at United Welsh for setting up the meeting.
To keep in touch, sign up to email updates from this blog, or follow us on Twitter.