I'm a graphic designer in the Companies House external communications team. My job is to translate our messages into creative and compelling visuals. Amongst other things, I'm also a gay man 'of a certain age'. I think it's ok to be ageist when you're talking about yourself.
Not long after I started in 2017, I heard that Companies House was setting up a staff LGBTQ+ network as part of a diversity initiative. I got involved because I've spent a large part of my working life having to hide the fact that I'm gay.
Initially, this was because it just wasn't the done thing. But later I needed to hide it because of the attitudes in my working environment.
I spent 2 years in very non-PC private business where I heard the word 'faggot' as regularly as the word 'football'. So it was a great relief to finally be in a workplace where I was able to talk freely about myself and my partner.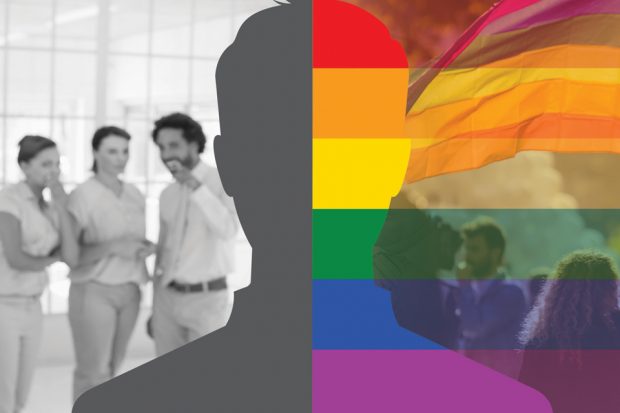 I've heard people say, "Why give LGBTQ+ people special treatment?" But that misses the point.
Most LGBTQ+ people just want to live their lives in the same way as everyone else. But when you're an LGBTQ+ person who's not 'out' in work, you live a kind of double life – but not in a cool, James Bond way. You can't always talk about what you've been doing outside work and often have to adjust the facts to fit expectations, so you can never truly relax in work conversations.
The pressure to add colleagues as friends on Facebook also means that you either make excuses about not wanting to mix work and your private life, or you live in fear of someone making an inappropriate comment on one of your posts. Also, if you're in a relationship which breaks down, you cannot talk about it in work and have to act as if everything's normal.
A number of Stonewall surveys have found that LGBT people who are closeted at work feel isolated, drained, and unable to be creative. Being out at work makes them happier, more productive, and more likely to get involved.
When I was researching information for the network, I discovered a recent Human Rights report which found that 46% of LGBTQ+ workers in America are closeted at work. According to a recent Stonewall report, here in the UK, it's 35%. That's a lot of James and Jane Bonds!
Our LGBTQ+ network
The National Assembly for Wales was named Britain's best employer for LGBTQ+ staff in 2018.  Our colleagues there gave us some great advice on setting up our LGBTQ+ network. This included looking into participating in the Stonewall workplace equality index.
It's amazing to think that when the workplace equality index began, many of the firms who made the top 100 wanted to remain anonymous. And this was not the 1950s or even the 1970s, it was 2005. Now, 14 years on, employers are proud to be at the top of that list with more and more organisations (including Companies House) striving to appear on it.
Our LGBTQ+ network is still in its early stages, but we're looking forward to seeing its progress and helping to raise awareness in our office and beyond.
No one should live their life having to pretend to be someone they're not.
To keep in touch, sign up to email updates from this blog or follow us on Twitter.