At school, my dream was to be a makeup artist. And when I started a job doing just that, I was over the moon.  
I worked on TV shows and films in the prosthetics department. I loved it and thought that would be my future. I built up a portfolio of work and planned my rise through the industry.    
But a chance conversation changed everything. Someone transitioning from male to female wanted a makeup starter lesson and approached me. I was happy to help and really enjoyed it.
As I helped them find the right colour palette, I thought about whether they would come across this kind of treatment anywhere else. The answer was probably not.   
Consider the makeup stands you get in department stores. There are neither the products nor the expertise to support trans women, let alone the acceptance and understanding they deserve.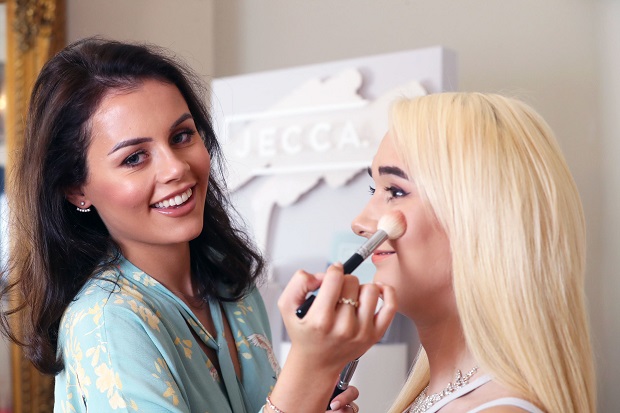 Exploring something new 
As I finished that first lesson, I felt like I'd done something important. I could tell it was more than just giving some tips. It was opening up a world of opportunity for someone who needed a safe space to explore something totally new.   
I spoke to a friend who had transitioned to see what she thought about what I was doing. I wanted to check it was the right thing. I got a really positive response, and she said I was doing what the whole scene was crying out for.   
One thing led to another and before I knew it, my name had spread around the transgender community.  
I started getting more and more calls about lessons. What had started as a one off became a business with clients who returned for advice. At the time I was based in Cardiff, but people would come from all over the UK. I even had customers in Glasgow who would travel down to meet with me.  
A trip to prison  
This led to features in various newspapers. One made its way into the library of Parc Prison, one of the largest prisons in Wales. An inmate who was transitioning cut it out and pushed it under an officer's door.  
I was invited in and spent time with about 10 trans women, helping them explore makeup and fashion. Together with one of the officers, we were able to choose suitable makeup for inside the prison. There were 3 rules:
no glass

no plastic

no mirrored products 
Looking back, I was quite a trailblazer, but it seemed very natural at the time.  
As things progressed, it became clear that my clients, who by then included high-powered business people and sports stars, needed more than just advice. They also needed makeup that was suitable for their skin. Specifically, to cover beard shadow. This is something transgender and non-binary people often struggle with. I found a supplier that could offer a concealer palette and started to offer it to my clients. 
Building the business  
This was a great way to scale the business, which was when Jecca Blac was born. I got a website and created the brand.   
To grow we needed investment. Given this is a such an under-served market with a real need, it was not too hard to find the right people. After a bit of perseverance, I found the right partner who provided both the money and expertise to help the business expand.  
We now have a full range of makeup from lipstick to contouring palettes. It's all built on the idea that makeup has no gender.  
It's not been easy, and I've had to learn about business very quickly. As a 23 year old woman selling a niche product, it can be tricky, but people often see it's the right thing to do – and a huge opportunity.  
I've gone from about 200 clients at the beginning to a full business, with sales across the globe and a following of tens of thousands. We're also about to be stocked in a very large chain of American superstores.   
This has been an incredibly exciting journey. But the real reward has been seeing people's lives change. There have been lots of tears – but good tears.
The trans community is still emerging. People are still scared so we're treading carefully. We'll be celebrating this LGBT+ History Month with a small event in Covent Garden called Trans Festival.   
We've come a long way since that first chance lesson – and we've got a long way to go. But it's all worth it.   
Companies House is committed to supporting equality and diversity both within the organisation and the wider UK business community. Our diversity and inclusion campaign celebrates diversity in business and makes sure people from a range of groups are encouraged to bring their whole selves to work. 
Keep up to date with the latest stories from the campaign on our blog and social media channels.